My Google Alerts started pinging really loud this morning. It said over and over, 'Shy Love lies, Shy Love lies, Shy Love lies', then said, 'Expose her', then said 'Cut CJ Anderson and never look back'.
Outside of plotting the demise of Monica Foster, my second favorite pastime is trolling Shy Love, or as I like to call her, 'The Stage 4 cancer of porn'. Her twitter account is a cornucopia of lies and subtweets. Shy has blocked all accounts suspected of being TRPWL, in fact she's blocked any account that has a T, R, P, W, or L in its twitter handle. She's blocked half her roster, basically. All in an effort to keep me from reading her timeline. But it didn't work Shy, I used my account with the consonants F, K, P, C, and the vowel U.
One of my all time favorite Shy Love tweets is this beauty:
So let me see if I follow Shy. Dogfart rings The VIP Connect and says 'I need performer A to do an IR gangbang'. She then calls performer A and says, 'I've got an IR gangbang at $2500, but before I book it, I need to know, have you been doing IR gangbangs in your spare time for at least 90 days?'  Then performer A says, 'No, Ive only been doing them for a month and half…' So according to Shy, she doesn't get the booking LOL.
I know what you're thinking, What does this have to do with Shy shooting again? Nothing, but it's still funny and if you don't like it, go read South. Surely Manwin is about to get indicted..
The Shy Love Conspiracy: An Investigative Report
When you go out of your way to deny things it's normally because they're true.  Let's look at the evidence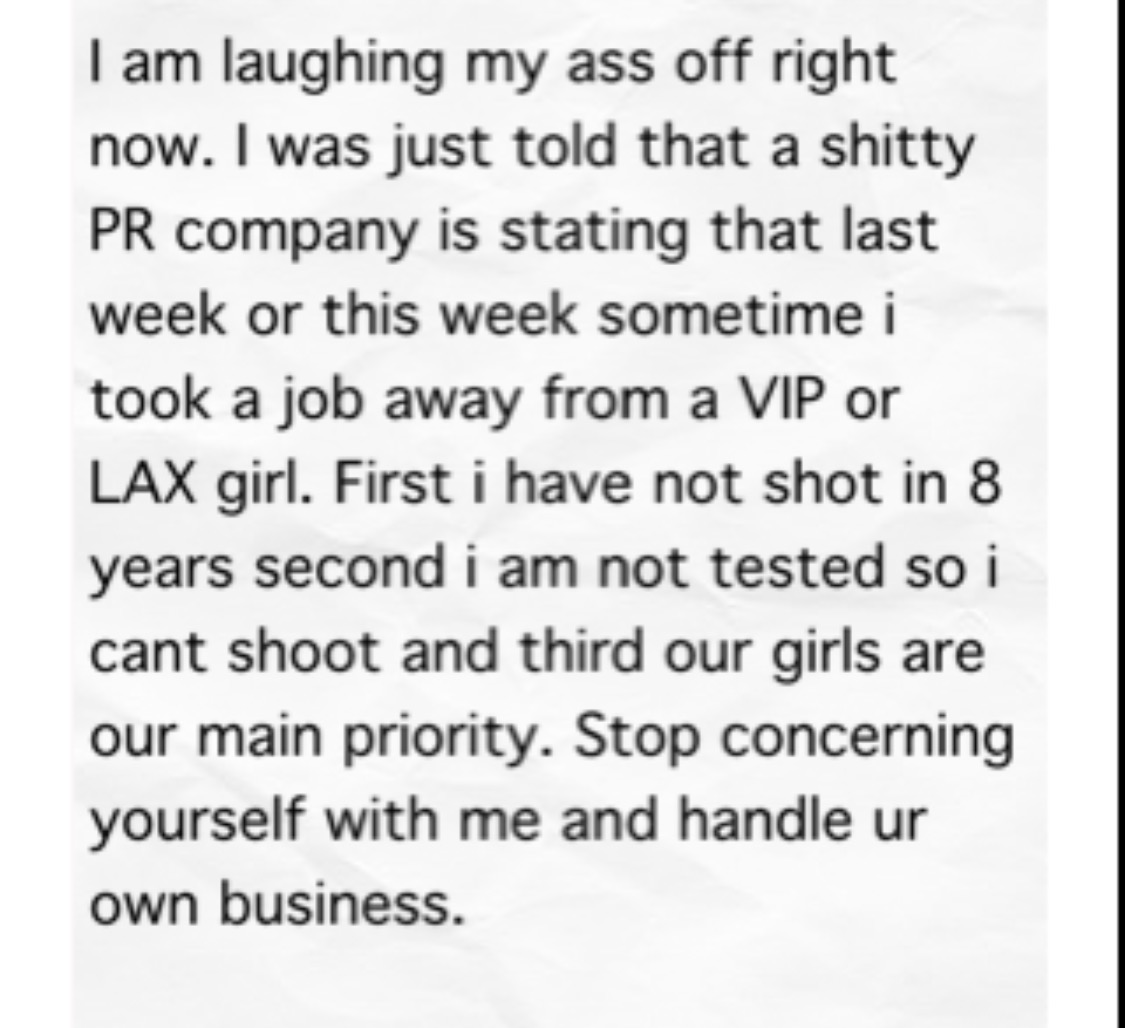 Shy, finally me and you agree, Erika Icon sucks ass as a PR company. But why take the time to address this "silly" rumor ?  You're Shy Love, alleged owner of 3 adult talent agencies. You say your book is a best seller and your life is super. Seems sort of trivial to even take the time to acknowledge Erika.

Oct 1st?  Are you going to the homecoming?  Did FOX cast you in a season of Dancing With The Tards?  Or are you getting ready to start shooting again?
Big announcement? Did the IRS finally catch on to you and the hubby? Did you start a GoFundMe so you can fly to space? Did 6 more girls leave the VIP? Or are you gonna start shooting again?
We know this isn't the "Big Announcement"
You have directing ideas?  Does it involve a vagina and penis?  If so, that's groundbreaking stuff. Maybe you could have some girls having a sleep over, then they order pizza but have no money, the delivery driver shows up, then they all have sex. All directed by Shy Love. Undoubtedly your ideas and Tarantino camera angles will lead to Axel and Brad quitting porn and going in together on a rabbit farming operation.
Why would someone as "successful" as Shy even take a directing gig? To let her tell it she spends more on shoes than the average director's shoot budget. It would seem there is more to this story. If LATATA didn't forbid me from gambling, I'd steal all Desi's phone sex money and place the whole 8 bucks on Shy getting ready to shoot again.  I'm sure of it.
To quote the AHF Promo Blog, " You Heard It Here First Folks, love you long time, im great and everyone else sucks and id like to thank all my sources, yer the best" 
PS.
Check out this great tweet:
Shy Love, Owner of "THE VIP CONNECT" is anti escorting? This is shocking. One would have to ask why Shy calls her company the "The VIP Connect"  seems sort of excortingish. Why not "The VIP Model Agency" Or why use VIP at all. Do you consider Xander Corvus a VIP?  When VIPs like Xander or Lex need to connect do they call "The VIP Connect"? It would seem to me, if I was a VIP from a big company and I wanted to connect for some super nasty sexual things that the girls have already been doing for 90 days then I'd call someone with VIP and try and Connect..
On top of that, what the fuck is wrong with escorting?  You're in the sex industry.
So let's reflect: Shy lied about girls doing stuff for 90 days before booking it,  Shy lied about shooting, she lied about being successful, she lied about being anti-escort, and she told the truth about Erika having a shitty PR company.. 1 for 5 on the truth scale