Construction workers made an unusual discovery while they were excavating below a historic area of Louisville, Kentucky.
Unnerving oil paintings and a decrepit bondage bed with a rusted chain pulled by a handle at one end give hints to what may have been a sado-masochistic swingers club of years past.
The erotic discovery was made beneath a buildings on the city's historic Whiskey Row when a demolition team went in as part of a restoration project that is expected to cost $7million.
According to local station WHAS-11, the club was found two floors below 119 East Main Street.
The area was originally known for its connection to the city's bourbon whiskey production, and in keeping with that tradition, they found 1,000 discarded whiskey bottles.

While that was fitting with the area's industry, the torture chamber was obviously less expected.
Chairs covered in cobwebs are the most tame of the finds.
A wooden rack with a rusted chain at one end that could be cranked by an operator shows how an element of pain was certainly involved with the basement's former use.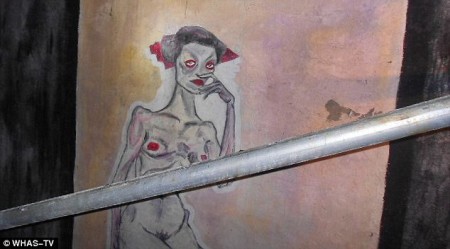 The eerie oil paintings of ghouls in outstretched sado-masichistic positions give a very clear picture of what the intended use of the club was.

The acronym LATEX, which stood for Louisville Area Trust Exchange as opposed to the material often used in bondage activities, is spread across one of the walls.
WHAS reports that the club opened in the 1970s and remained operational until the 1990s.
An unidentified former member, who was one of the 1,000 dues-paying patrons, gave some details to the station that shows the level of organization that went into the operation.
'A group of about eight of us decided to form an organization to promote and teach people about safe ways to practice sadomasochism,' the man said.
'There were a few professional dominatrixes, a few that were in committed B-D-S-M relationships, some gay, some straight.'
One of the club's founders, who also spoke on the condition of anonymity, said that at one point they had over a dozen bondage and torture devices, but safety was always a priority.
'We employed safety personnel and guards to insure nothing dangerous, non-consensual, or untoward ever took place, and to my knowledge never did,' he said.
Regardless of the sordid discovery, the interior demolition of four buildings on that portion of Main Street will continue as scheduled.