Leading adult e-tailer GameLink.com is showing support for the presidential campaign of Deez Nutz with an exclusive offer this Labor Day Weekend. Customers will receive 15% discount on every item on GameLink's site during the sale, with a portion of the proceeds going to support Mr. Nutz' bid to become president of the United States. Regarding the sale, GameLink states, "Deez Prices Are Nutz!"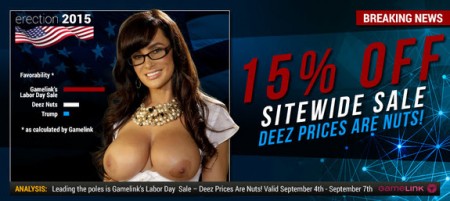 "With Deez Nutz' popularity increasing exponentially over the past month, and his outward stance against the current political standard, we believe that our company can help support his candidacy through our great Labor Day Weekend Sale," said eLine.com Vice President of Business Development and Marketing Jeff Dillon. eLine.com is the parent company of GameLink. "We hope to generate as much money and support possible for Deez Nutz and his campaign over the three day event."
In a Public Polling survey of North Carolina released earlier this month, 9% voters said they would vote for Deez Nutz, a young man from Iowa, over Hilary Clinton and Donald Trump. "The fact [is] everyone is basically taking each other out, and I'm just climbing in the polls," Deez Nuts told KCRG News. "And, if Donald runs as an independent, that just helps me even more."
In addition, GameLink would like to offer the individual who created Deez Nuts a position with our company when he turns 18 – in the event he doesn't win the upcoming election. "He's shown his ability to capitalize on current global situations with tactfulness, intelligence and brilliant timing," said Dillon. "These are all qualities we look for when recruiting for positions at eLine and GameLink."
GameLink.com is a dominant force in the online adult market, and features an extensive catalog of more than 120,000 titles, an intelligent recommendation system, sophisticated privacy cloud, and revolutionary technology.
Adjacent to the weekend sale supporting Deez Nutz' campaign, customers can find GameLink's collection of political themed adult films on the main website, including titles such as Filthy Films' "Between the Headlines"; Baby Doll Pictures' "Dirty Politics"; Pleasure's "Public Affairs"; and Hustler's "Sarah's Going Rogue" and "Who's Nailin' Palin? #2." Visit GameLink.com for more information.
A one-stop shop for everything adult, GameLink.com also offers sex toys, lingerie, adult books, games, and collectibles, as well as creams, lotions, lubricants, jewelry, bondage gear, and more.
About GameLink: 
The original online store, GameLink was founded in San Francisco in 1993. Today it is the leading online distributor of adult content through its website,
www.GameLink.com
, which provides an enhanced user experience with cutting edge functionality. In addition to its e-tail store, GameLink's clean, sophisticated site includes a modern membership platform built for those used to watching content on Netflix, HBO GO, and Amazon Prime. The responsive design allows users to view the hottest adult content on all their devices, including PCs, laptops, TV sets, tablets, or smartphones. With weekly updates and hundreds of movies from top adult studios, the membership platform gives users full access to thousands of hours of all-new entertainment in a variety of genres. Distribution agreements with all major U.S. adult content providers ensures GameLink.com offers one of the largest adult content catalogs, which is available in multiple media formats, including video on demand, adult pay per minute, mobile platforms, download, adult DVDs, and Blu-ray. Going beyond movies, GameLink's e-commerce platform also offers shoppers a wide selection of sex toys, creams, lotions, apparel, and fetish gear from top brands like Pipedream, Adam & Eve, Doc Johnson, and Cal Exotics. The site also includes a sexy adult blog offering news and editorial. Always innovative, GameLink's first-in-class content delivery, database, and personalization tools make its infrastructure among the most advanced and successful enterprises on the Internet. For more information, go to www.GameLink.com, www.Twitter.com/GameLink, or www.Facebook.com/
GameLinkDotCom.