I wonder how many people could get their meds if AHF donated the 5 million earmarked for the condom mandate to these people. Na. That would make to much sense
(Mizzima) – Of the estimated 240,000 people with AIDs and HIV in Burma, half are in urgent need of life-saving antiretroviral treatment (ART), say doctors. According to estimates in 2010, less than 30,000 of those infected were receiving the drugs.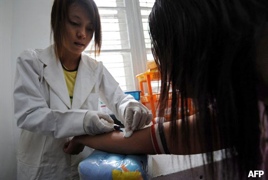 A Rangoon medical worker takes a blood sample from a woman as part of an HIV test at a specialized clinic run almost entirely by those in the sex trade. The project now has programmes in 19 cities and employs 350 people. Photo: AFP
"We see patients crawling in, some lethargic and near death, some trying to drag themselves in," Dr. Maria Guevara, medical co-ordinator at Médecins Sans Frontières (MSF), which is the largest provider of ART in Burma, told The Guardian newspaper.
"We are having to say no to people we know will just get sicker and die," she said.
The hope that more drugs would soon be available was dashed last November when the Global Fund announced the cancellation of the next grant-making round due to lack of funds, the article said. The board is due to meet on Thursday to discuss the institution's future.
Doctors are rationing drugs, giving prescriptions only to the weakest patients, said The Guardian. Death rates among people who arrived in clinics too late were up to 25 per cent last year, said MSF.
Burma is the least developed country in Southeast Asia and receives only a fraction of the aid from which some of its neighbours benefit.
The Burmese Ministry of Health is woefully underfunded. Nearly 33 per cent of Burmese live below the poverty line and thousands are unlikely ever to be able to afford ART, which cost $30 a month, said MSF.
In August 2011, Mizzima reported that Health Minister Dr. Pe Thet Khin told Parliament that his department received about 43 per cent of its essential budget needs in the latest fiscal year.
The shortfall will cause a lack of medicine and services in government hospitals and clinics, he said. The minister said his agency needed 8 billion kyat per year, but received 3.5 billion kyat.