Industry voices sing praise for Best New Imprint's premiere showcase starring Carter Cruise
Airerose Entertainment is thrilled to report that the reviews for All Access Carter Cruise are already coming in, and the consensus is excitingly positive. Streeting in two weeks on May 14th, the premiere star showcase boasts 4 explosive scenes interspersed with hand-shot, unscripted footage, carried by no other than Best new Starlet Carter Cruise.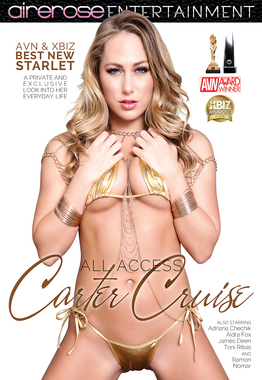 Sex.com's Chico Dusty calls it "a must-see for Carter Cruise fans," going on to say that "the four sex scenes showcasing Carter Cruise's energy, charisma and versatility are destined to individually become classics among the porn viewing public."
Adult DVD Talk's Captain Jack raves, "An outstanding showcase movie from Airerose Entertainment featuring Carter Cruise…The sex was top notch. You have everything you could possibly want in a DVD."
Adult DVD Talk's Bono-ONE rated
All Access Carter Cruise
"highly recommended," commenting, "You see how disarming [Carter Cruise] is."
Xcritic's Don Houston called it, "a winner of a spotlight showcase courtesy of Carter's many fine qualities," going on to say that it is "certain to garner plenty of award attention later this year."
Roger T. Pipe of RogReviews.com gave it respectable 'A-' overall, stating that All Access is "A showcase that is sure to stand the test of time… well shot, nicely paced and very energetic…Pencil it in for Best Star Showcase nominations for award season next year."
"From conception to production to these humbling reviews, All Access Carter Cruise has been a journey," explains Adam H. VP of Airerose Entertainment. "We can't wait to share it with the world. The fans will love it."
All Access Carter Cruise stars Carter Cruise and features Adriana Chechik, Aidra Fox, James Deen, Ramon Nomar, and Toni Ribas. Airerose's premiere star showcase is a deluxe two-disc edition including bonus features like behind-the-scenes material, photo galleries, trailers for Airerose's other gonzo titles, and a very special message from Carter Cruise.
Follow us on Twitter to stay up to date with news about Airerose and its stars @airerose and use the hashtag #AllAccessCarterCruise to keep the conversation going.
View SFW trailers for Airerose's past releases and video vlogs on the Airerose Entertainment Youtube Channel.