Latest edition of bestselling young girl series now available for retail
Airerose Entertainment is proud to street today Pure 4, the fourth volume of the gonzo powerhouse's bestselling young girl line featuring a fresh flock of four females down for a full-fledged fucking.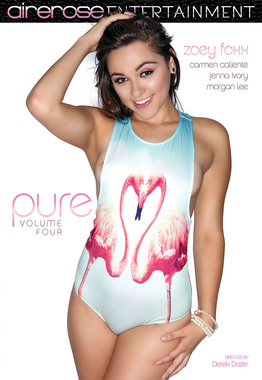 Art K. of Nightmoves Magazine and All Adult Network gave Pure 4 a perfect '5 out of 5' rating, commenting, "Once again Dozer has brought four new faces to our attention and let us see them as people, as well as performers. The settings and pacing are exceptional…can't wait to see what number five has in store for viewers."
Pornvert of Inked Angels gave
Pure 4
a high '4.5 Hard Ons Out of 5,' saying, "Beauty, carnal hunger, sultriness, and pure sexuality…
Pure 4
is pure bliss."
Captain Jack of Adult DVD Talk explains, "I like [Airerose Entertainment's Pure] series because we get a chance to learn a little bit about these young girls before they do what they do best… nice cast in this one."
Fresh as daisies and frisky as fuck, the ladies of Pure 4 exude pure sex and sensuality, and let it all out in four scenes as unique as they are. Sprightly starlets
Carmen Caliente, Jenna Ivory, Morgan Lee, and covergirl Zoey Foxx tease and please with their pretty squeeze-boxes and give in to pure ecstasy so captivating that fans will revisit again and again.
Adam H., VP of Airerose Entertainment, stated, "
Pure 4
is finally available for retail, and not a moment too soon; fans have been chomping at the bit for the next edition of our bestselling young girl series, and we are glad to give it to them. "
Pure 4
includes bonus features like hard and soft photo galleries, and trailers for Airerose's other gonzo titles.
Follow us on Twitter to stay up to date with news about Airerose and its stars: @airerose.
View SFW trailers for Airerose's past releases and video vlogs on the Airerose Entertainment Youtube Channel.