Winning XRCO's Female Performer Trophy Would Give Her the Big 3 for 2015
VENICE, CA – The 2015 XRCO Awards will take place this Saturday night in Hollywood and Anikka Albrite has the opportunity to be the industry's second-ever Triple Crown winner, taking home the trophies for Female Performer of the Year the industry's top three awards shows, AVN, XBIZ and XRCO, in the same year.
Anikka won the award at the AVN Awards and XBIZ Awards in January. The only performer to ever win the awards from all three organizations in the same year was Jenna Haze in 2009 while she was a Rising Star PR client as well.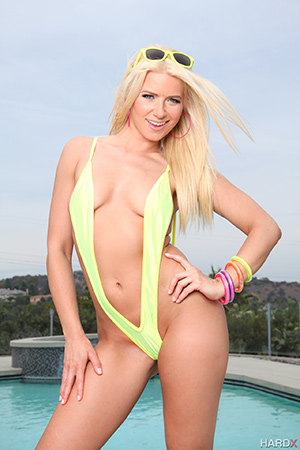 "I didn't realize what a rare opportunity I have this weekend," Anikka said. "There have been so many amazing performers over the years that you'd think that it would have happened a few times. Obviously it was be amazing to win, but I know I'm up against some really great girls and know whoever wins it will be a great selection."
She is also nominated for Orgasmic Analist and Anikka 2 (Hard X/O.L. Entertainment) is up for Best Gonzo Movie.
If there is anyone who doesn't know what all the hype is about, Team Skeet has a new movie starring Anikka releasing this week, Big Ass Curves 5. She can also be seen in new titles such as Femdom Anikka (Kick Ass), Manuel Opens Their Asses 2 (Jules Jordan Video), True Lust (Archangel) and Eternal Passion 4 (Erotica X).
The 2015 XRCO Awards will be held this Sat., April 11 at Lure Nightclub, 1439 Ivar Ave, Los Angeles, CA 90028. Red carpet starts at 6 pm. Visit www.xrco.com for more information.
Read the Xtreme interview with Anikka at http://www.xtrememagazine.com/2015/03/strip-club-feature-anikka-albrite/.
Follow Anikka on Twitter (@AnikkaAlbrite). To book her contact Spiegler Girls at www.spieglergirls.com/html/anikka.html. For everything Anikka go to http://risingstarpr.com/clients/anikka-albrite/.