A registered sex offender from Florida has been arrested for allegedly having sex with a dog a week after being jail on bestiality charges involving another pooch.
James Lyons, 52, from St Augustine, was taken into custody last Friday after police said he sexually abused his neighbor's dog.
The neighbor said that he noticed last week that his 7-month-old dog, Bailey, was missing. He later spotted Lyons carrying his pup from his trailer, the station First Coast News reported.
The 52-year-old claimed that he found the lost dog and was returning him, but the owner became suspicious when he noticed that Bailey was acting strangely.
The pooch was taken to a veterinarian, who determined that the animal was likely subjected to abuse and bestiality.
Following his arrest, Lyons posted $11,000 bond and was freed later that day after being ordered by a judge not to have any pets at his home. 
On Thursday, however, the 52-year-old sexual predator allegedly had sex with another dog, which he claimed was a stray.
Animal control officers who arrived at Lyons' home at 7548 U.S. 1 South discovered two pups – a pit bull and a terrier mix. Both animals were taken to Matanzas River Animal Hospital for a check-up, according to the station News4Jax.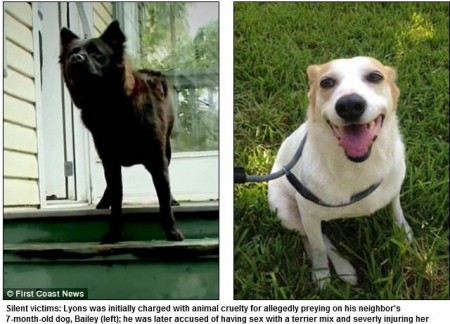 While the pit bull, which belongs to Lyons,  appeared to be unharmed, veterinarian Dr. Nicholas told the station the injuries to the female terrier's genitals were appalling.
'There is no doubt that this dog suffered a great amount of pain,' he said. 'The suffering that this dog endured and continues to endure during the healing process cannot be overstated.'
Lyons has been charged with cruelty to animals, sexual activities involving animals and failure to register as a sexual predator.
He was booked into jail on bonds totaling $61,000 and is due back in court August 13.
The injured terrier is currently receiving treatment at St John's County Animal Control. The 42-pound pooch will be put up for adoption or rescue following her recovery along with Lyons' pit bull.  
Lyons has a criminal record involving multiple sexual abuse crimes. He served 13 years in prison for attempted sexual battery of a child and a sexual act with a child while in a familial role in 1998.