May Flowers: Scheduling Shoots in Miami and Los Angeles for This Spring
VENICE, CA – This weekend Ashley Sinclair is posting a sexy new video on her www.ClubSinful.com that explores consensual inhibition of physical freedom, a sometimes-controversial corner of human sexuality.
Titled "Behind Closed Doors," this video shows It is what happens behind closed doors as she is getting ready and anticipating being auctioned off to the highest bidder. She fixes hair, make-up, accessories, gets dressed, and then handcuffs herself and tells her "auctioneer" that she is on her way out…and she hopes she makes him proud of her.
"It's an insight to the classier side of bondage erotica," she explains. "I'm always interested in exploring different parts of my sexuality and clearly that means different things to different people. I really enjoyed shooting this one and it's going to show my fans something different that I think a lot of them are really going to enjoy."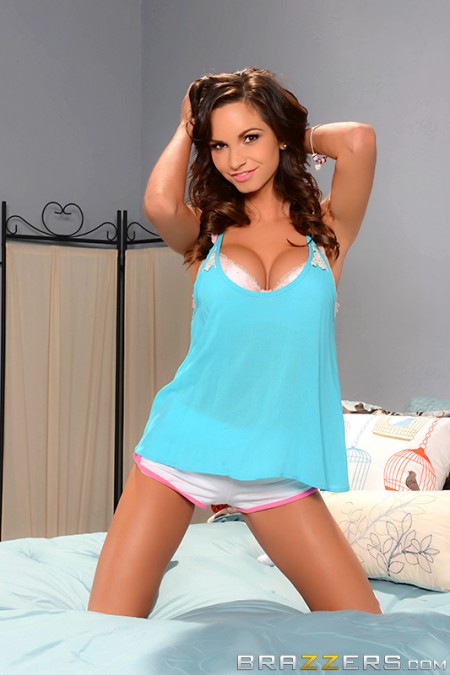 Another thing fans are going to enjoy is the results of her upcoming trips to Miami and Los Angeles. In May she'll be travelling to both cities to shoot some new scenes that are sure to please fans new and old.
"I haven't done that many scenes for the traditional porn companies, so every time I do it brings me exposure to people who might not have discovered me otherwise, so it's great for everyone," she says. "Plus it gives me the opportunity to work with people that I might not otherwise have."
Ashley was recently named Sexiest Adult Starlet at the Alt Awards and Crossover Performer of the Year at the 2015 Cammy Awards.
Ashley's new company is @MySecretPayment and the website is www.MySecretPayment.com (this is a beta site – still a work in progress).
Fans can now text Ashley – including pics and text messages – at Dream Lover. Go to http://www.dreamlover.com/ashleysinclair to connect with her.
Catch her cam shows 9 pm to 3 am ET nightly (and a free show every month!) on http://iamashleysinclair.com, and contact her for private shows via Skype and to fulfill fantasies with personalized videos (go to www.bookashley.com). She's also available on Verified Call (https://verifiedcall.com/profiles/AshleySinclair) for fans who want to chat with her. She is also available to shoot custom videos. For a free preview of what that can look like go to www.ClubSinful.com. Her adult toy store can be found at www.ashleysadultstore.com.
Ashley produces custom fetish content where the fan is the director. Contact AshleySinclairProductions@gmail.com for information.
Check out her websites, www.ashleyandfriends.com and http://clubsinful.com.