Ashley Sinclair is one of the industry's busiest stars, so scenes for the big Porn Valley companies don't happen as often as most would like, making each one a small event to be savored. There is a new Ashley event courtesy Naughty America that has just been posted.
Shot in 4K HD, "My Wife's Hot Friend" pairs Ashley with industry veteran Mark Wood for a forbidden affair. Ashley is crashing at her friend's house and Mark is her friend's husband. Ashley takes the old adage mi casa es su casa and turns it into su esposo es mi hot lay.
"I realize that fucking my best friend's guy probably isn't the nicest thing I could do to a friend, but I think it's a fantasy that everyone can tap into," Ashley said. "Mark was perfect. He looks so unassuming and plays that role really well, but when it comes to the hardcore he's right there."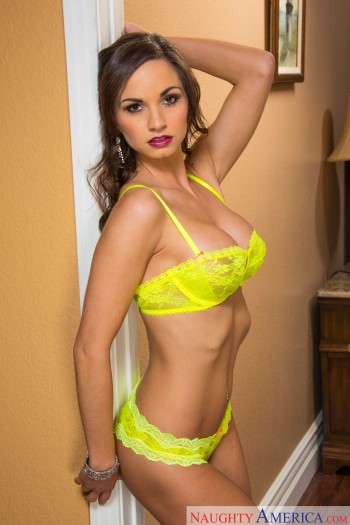 Other Ashley scenes for Naughty America include "I Have a Wife" with Levi Cash and "My Dad's Hot Girlfriend" with Ike Diezel.
Ashley has a 9.1 rating on the site, making her one of the highest-rated starlets on Naughty America.
On her www.ClubSinful.com site she debuted "Behind Closed Doors" over the weekend. The scene shows her as she gets herself ready to be auctioned off, right down to handcuffing herself. "I hope I make you proud of me," she tells her seller as she heads out to the auction block.
Ashley was recently named Sexiest Adult Starlet at the Alt Awards and Crossover Performer of the Year at the 2015 Cammy Awards.
Check out Ashley in "My Wife's Hot Friend" at http://tour.naughtyamerica.com/scenes/ashley-sinclair2/19473/?&nats=4.4.8.8.1169.0.0.0.0.
Ashley's new company is @MySecretPayment and the website is www.MySecretPayment.com (this is a beta site – still a work in progress).
Fans can now text Ashley – including pics and text messages – at Dream Lover. Go to http://www.dreamlover.com/ashleysinclair to connect with her.
Catch her cam shows 9 pm to 3 am ET nightly (and a free show every month!) on http://iamashleysinclair.com, and contact her for private shows via Skype and to fulfill fantasies with personalized videos (go to www.bookashley.com). She's also available on Verified Call (https://verifiedcall.com/profiles/AshleySinclair) for fans who want to chat with her. She is also available to shoot custom videos. For a free preview of what that can look like go to www.ClubSinful.com. Her adult toy store can be found at www.ashleysadultstore.com.
Ashley produces custom fetish content where the fan is the director. Contact AshleySinclairProductions@gmail.com for information.
Check out her websites, www.ashleyandfriends.com and http://clubsinful.com.
For everything Ashley go to http://risingstarpr.com/clients/ashley-sinclair/. For up-to-the-second updates, follow Ashley on Twitter (@AshleySinclair0).