When the media needs to talk to someone who knows camming inside and out, Ashley Sinclair is there.
Canada's National Post is investigating a cammer who has allegedly been camming from a public library and to get some perspective they contacted Ashley.
"There's all sorts of guys who just think it's the hottest thing ever for a girl to do something naughty in public," she told National Post's Tristin Hopper. She also told the reporter about a client who like having her do things next to a window because he thought people outside could see her.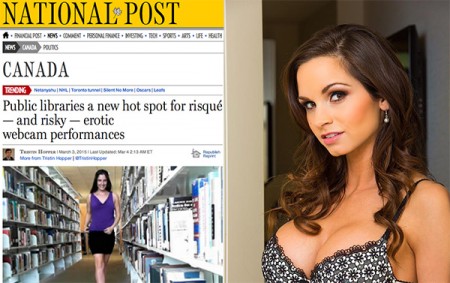 "I understand the allure of public and semi-public sex," Ashley says. "It can make things more exciting and everything I do certainly isn't within a windowless room within my own home. Everyone has their fantasy."
Speaking of fantasies, Naughty America has a new scene starring Ashley that falls into the "I Have a Wife" category. Also, her first-ever B/G/G scene can be found on Mofos.com. She worked with Kimber Lee and Tony DeSergio. Check out the "Busted Babysitters" scene at http://www.mofos.com/tour/scene/from-naked-selfies-to-a-threesome/2937/.
Ashley, recently named Sexiest Adult Starlet at the Alt Awards and Crossover Performer of the Year at the 2015 Cammy Awards last month, has been busy shooting content for her www.ClubSinful.com site.
She is scheduled to be in Los Angeles later this month.
Read the National Post story at http://news.nationalpost.com/2015/03/03/public-libraries-a-new-hot-spot-for-risque-and-risky-erotic-webcam-performances/.
Fans can now text Ashley – including pics and text messages – at Dream Lover. Go to http://www.dreamlover.com/ashleysinclair to connect with her.
Check for Ashley scenes on Naughty America at http://tour.naughtyamerica.com/pornstar/ashley-sinclair/?&nats=4.4.8.8.1169.0.0.0.0&apc=&term_cat=ashley-sinclair.
Catch her cam shows 9 pm to 3 am ET nightly on http://iamashleysinclair.com,  and contact her for private shows via Skype and to fulfill fantasies with personalized videos (go to www.bookashley.com). She's also available on Verified Call (https://verifiedcall.com/profiles/AshleySinclair) for fans who want to chat with her. She is also available to shoot custom videos. For a free preview of what that can look like go to www.ClubSinful.com. Her adult toy store can be found at www.ashleysadultstore.com.
Ashley produces custom fetish content where the fan is the director. Contact AshleySinclairProductions@gmail.com for information.
Check out her websites, www.ashleyandfriends.com and http://clubsinful.com.
For bookings contact East Coast Talent: http://eastcoasttalents.com.
For everything Ashley go to http://risingstarpr.com/news/?page_id=7451. For up-to-the-second updates, follow Ashley on Twitter (@AshleySinclair0).