Featuring at Little Darlings This Wed & Thurs with Jessa Rhodes and Skin Diamond
VENICE, CA – This will be a great year to get to Las Vegas for the kickoff to the Adult Entertainment Expo which will have its unofficial kickoff on Wednesday night at Little Darlings with a double bill of Brandy Aniston and Jessa Rhodes.
On Thursday night the club will hold the Deviant Devil party which will feature shows from Brandy and Skin Diamond.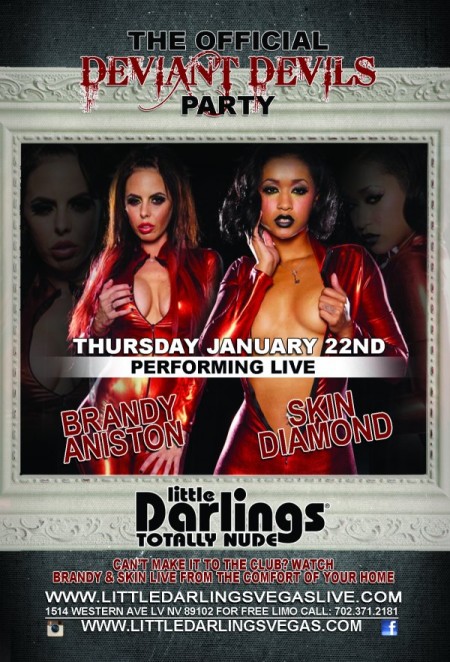 Brandy will also be at the 2015 AVN Awards, where she is nominated for four trophies: Best BDSM Movie for Brandy Aniston Is Fucked (Deviant/Metro) and Best Boy/Girl Sex Scene from that movie for her work with Barry Scott. She is also nommed for Best Boobs and Kinkiest Performer.
"I am beyond excited for the AVN Awards I could not be more thrilled with my noms," Brandy said. "This is my favorite time of year and I love this show. They have been great to me over the years and I can't wait for this show."
Her Best Boobs and Kinkiest Performer nominations will be decided by fan voting. Fans can vote once per day per IP address at http://avnawards.avn.com/voting/category/5 for Best Boobs and http://avnawards.avn.com/voting/category/8 for Kinkiest Performer.
She is the proud owner of two AVN Awards. In 2014 she won Unsung Starlet of the Year and in 2014 she took home the Best Supporting Actress trophy for her amazing work in Not the Wizard of Oz XXX.
Brandy won't be tied down to signing at any booth at AEE, so friends and fans will need to keep their eyes peeled for her on the show floor.
Little Darlings is located at 1514 Western Avenue, Las Vegas, NV 89102. Call 702.366.1141 or visit www.littledarlingsvegas.com for more information.
For more information on her clothing line visit Sex Addict Clothing at www.sexaddictclothing.com. Brandy is the first porn star ambassador for NiteTimeToys. For more information visit www.nitetimetoys.com/brandy.
Follow Brandy on Twitter @brandyaniston and Instagram (BfknAniston). For more Brandy go to http://risingstarpr.com/news/?page_id=4314.