Tale of 15-year-old's affair with married woman is set to shock many readers.
From 'Ancient Light'
". . . I was adrift in a daze of tenderness and incredulous gratitude. A grown woman of my mother's age, but otherwise as unlike her as could be, had taken off her dress and unhooked her suspenders and stepped out of her drawers — white, ample, sensible — and with one stocking still up and the other sagging to the knee had lain down under me with her arms open . . . and even now had turned on her side again with a fluttery sigh of contentment and pressed her front to my back, her slip bunched around her waist . . . and was caressing my left temple with the pads of her fingers and crooning in my ear what seemed a softly salacious lullaby. How could I not think myself the town's, the nation's — the world's! — most favoured son and lavishly blest boy?"
John Banville's new novel centres on a forbidden and illegal sexual relationship — an affair between a 15-year-old boy and a married woman in her mid-30s.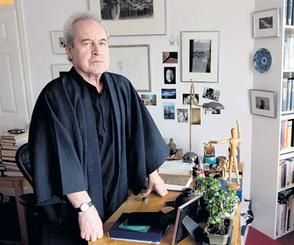 And while the new work, Ancient Light, to be published this week, is already winning lavish praise from literary critics, the highly erotic work about a taboo relationship seems certain to be controversial.
The acclaimed author's novel explores the affair in beautiful but explicit prose, describing in great detail a summer of love in a small town in Ireland in the Fifties between a 15-year-old boy and his best friend's mother, who is 35.
It's not Fifty Shades, of course, which is explicit but so badly written that it is laughable rather than erotic.
The Booker Prize-winning author — widely regarded as one of the greatest writers in English today — has produced what many already consider a literary masterpiece.
Even so, the explicit descriptions of the sex between the 35-year-old woman and the 15-year-old boy may seem shocking to some readers, no matter how beautifully written.
"Billy Gray was my best friend and I fell in love with his mother," is the first line of the book. The narrator, now in his 60s, is recalling the overwhelming intensity of the unlikely affair he had as a boy with the 35-year-old Mrs Gray.
He remembers being in his friend's house one day and glimpsing Billy's mother, Mrs Gray, naked in a mirror. The way she looked at him sparked his interest.
Soon afterwards she gave him a lift in her car and drove down a lane and invited him to kiss her. A week later, she brought him to her house when it was empty and guided him into having sex with her on a camp bed in the scullery.
Initially, he was passive and clumsy. But as the affair continued over the summer, the boy became better with practice. He also became more demanding, sulking if he did not get what he wanted in the back seat of her station wagon or in the derelict cottage in a wood outside the town where they met regularly.
Banville's vivid descriptions of the intensity of their love-making holds nothing back, neither the moans of Mrs Gray nor the triumphant cries of the boy.
She is as demanding as he is at times, barely driving off the road before demanding that he do it to her, risking that her nylon-clad legs will be seen waving in the air by a passing motorist.
The book is very explicit at times as Banville recreates the extraordinary rapture and heightened reality of how the boy feels.
One scene on a hot summer's day involves oral sex, when Mrs Gray is wading naked in a stream in the wood and he dives in after her, pushing his face between her thighs. But the descriptions of their sexual activity are an appropriate, even essential part of the author's exploration of the obsessive and ecstatic quality of first love.
Banville writes about the affair in an objective, non-judgemental way, although the relationship was as criminal in Fifties Ireland as it would be today.
Asked whether he thought it would be controversial or seen as obscene, Banville said: "Surely nothing nowadays can shock the reading public, which has been bombarded with all variety of obscenity since the Sixties. Not that I think my sad, loving couple are in any way obscene."
He also dismisses the idea that he should not write objectively about such an affair because it is criminal.
"The only criminality here that I can see is the boy's selfishness and his undervaluing of the loving and infinitely generous Mrs Gray," he says.
He refused to elaborate, saying he did not see any reason to defend the book.
"If I defend the book it will mean I think it needs defending — and I don't."
Banville denied that the story was in any way based on his own experience.
"Ancient Light is a novel, not a memoir. When a novel contains what might be considered controversial material, people always say, 'Aha, this must be written from direct experience.'
"But it's not. The book is fiction. As a 15-year-old, I did not have an affair with a married woman — more's the pity.
"There was no Mrs Gray, no Billy Gray, no boy (like the narrator) living in a small town with his widowed mother in a dingy boarding house in the 1950s. In fact, if there had been a Mrs Gray, I wouldn't have written about it.
"For a novelist, the imagination is all and everything is made up.
"Some readers find this hard to understand or accept. I remember, when my novel The Book Of Evidence (loosely based on the Malcolm Macarthur case) was published, I met a woman who worked in the prison service and said she was convinced I must have experience of jail, otherwise how could I have written about it so well in the opening pages of that book.
"I answered that not only did I have no experience of prison life, but I had never killed anyone either. The point being that the woman was giving me a larger compliment than she realised, since my fictional account of prison life convinced her that it must not be fiction."
Banville's new novel is about much more than the taboo affair. It's also about youth and age, about our unreliable memories and about tragedy and grief.
But the central taboo relationship at the heart of the book is likely to be the big talking point, whether Banville likes it or not.
'Ancient Light', by John Banville, will be published on July 5 by Viking Penguin in trade paperback at €14.99.
– John Spain
Source