Not that anyone really cares, but about 4-5 months ago, Melissa Hill left the fake union APAG. Let the union tell it, she was going to be removed had she not went Nixon and left..
Since she's left, both Melissa and Alana have spent numerous hours tweeting about each other. And to be honest, it's been fun to watch..  When you have 2 people with an inflated opinion of themselves it makes for great twitter conversation..
I guess it all came to ahead after Alana got caught lying about Stormy Daniel's and the dress that allegedly has Trump's cum, ass juice, boogers, finger nail clippings,  pubic hair and a business card that said "Donald Trump wasn't here" in the pocket.. Ok so I made up part of that, but hey, whats good for the goose right?
One of Melissa's Hills troll accounts pointed out that Alana was lying:
Alana, the President of APAG, made these tweets:
And of course, Melissa denies it all:
Luckily for you, I'm here to sort thru it.
First, let me answer the question that people keep asking me, NO, I don't believe Alana's Trump stuff… I take it for what it is, 15 minutes.. There seems to be alot of that going around so she's in good company..
A message to my followers, please don't beat up Alana, I don't hold her responsible for my March Madness brackets. I hold Loyola Chicago responsible, and I'm not advocating any of you to beat them up, but you know, if you see them anywhere just give them a dirty look and say it's from TRPWL…
Now, I never saw a threat, but, Melissa is the same person who made these tweets: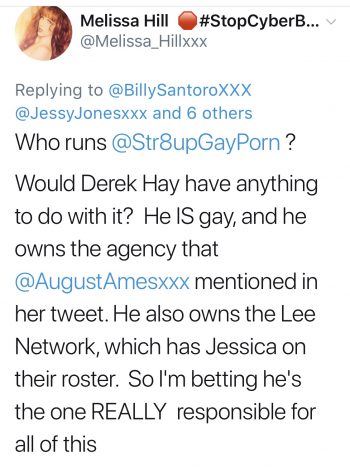 LOL  anyone who's been around for more then an hour knows Derek isn't gay and Str8UpGayPorn is owned by Nica Noelle fan Zachary Sire.
Not wanting to let the truth get in the way of anything, Melissa decided to double down: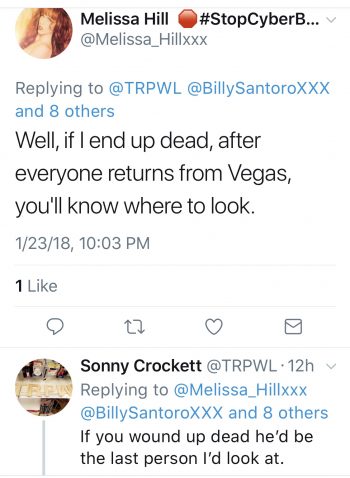 Yes, she went there.
Well, she's not dead…And I'm glad she's not.. While looking for the beat up Alana tweet I came across this gem: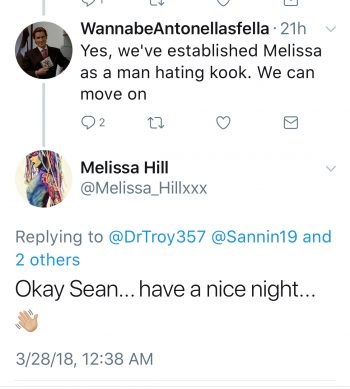 Now, maybe it's my vanity here, but, does she think thank that account is me?
I'm used to being accused of being every single account on tweeter, so I'm not bothered by it, I just find it funny..
Maybe they should just stop sub tweeting about each other…