LOS ANGELES — Digital Playground contract girl BiBi Jones, one of the breakout stars of 2011, announced her retirement from adult performing in a video she posted on YouTube today.
In the homemade video, the 20-year-old native of Oklahoma explained the reason for her decision.
"I've been extremely unhappy the last couple months," Jones said in the emotional message. "I'm not happy with me. I need to look at the big picture here and everyone knows that porn doesn't last forever and family is No. 1. And it hurts my family a lot, so I'm doing it for them and I'm doing it for me. I'm doing it for my health. I guess I'm saying that I'm getting out of the business."
Jones continued, "I was promised a lot of things whenever I got in the industry. I was so excited, I was so happy. But nothing's happened, and I can't do it anymore. I don't want to let down anyone. And I'm sorry if I'm making this very dramatic because I wasn't in the industry for very long at all but I'm only 20 years old and the earlier I get out of this industry the better it's going to be.
"And I have nothing negative to say about porn or the people involved in it. I fully respect everyone. And I'm happy about the friendships that I've made in it, but it's not for me. I'm going to start fresh and try to be a better person, I'm truly sorry to Digital and to Manwin."
Jones signed an exclusive contract with Digital Playground in December 2010 after doing a small number of scenes for other companies with the stage name Britney Beth. In 2011, she starred in several Digital Playground movies, including the ensemble movies "Fighters" and "Babysitters 2," and features such as "The Crib" and "Assassins." She graced the cover of the July 2011 issue of Hustler.
In January, Jones was an official trophy girl at the 2012 XBIZ Awards as well as a nominee for New Starlet of the Year. She also earned the distinction of being the "Most Searched Babe" on FreeOnes.com for 2011.
She said in the video that she had been reading "The Power of Now" by Eckhart Tolle for the past couple months and shared a passage from the book that talked about "taking responsibility."
>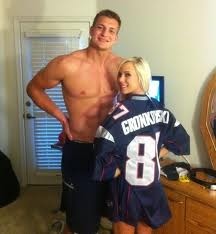 Source Xbiz