DOZENS OF SEX workers and their allies marched today from the Vancouver Art Gallery to the Downtown Eastside to protest the Conservative government's new prostitution legislation.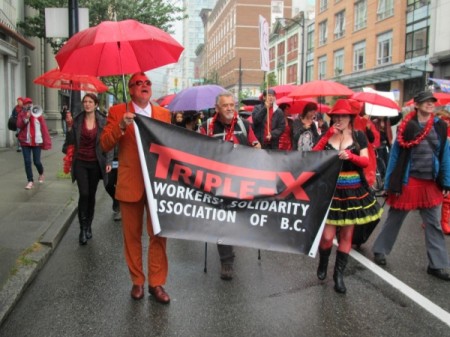 Chanting "start with rights, end with freedom", they wanted to send a message that if Bill C-36 becomes law, it will jeopardize the lives of sex workers.
That's because it will become far more difficult for them to work indoors and potentially push them into dangerous locations, where they'll be more vulnerable to predators.
A 2010 Ontario Superior Court ruling that struck down three of Canada's prostitution laws. The ruling by Justice Susan Himel pointed out that indoor sex work is far safer than working outdoors.
Despite this decision, which was upheld by the Supreme Court of Canada, Justice Minister Peter MacKay has introduced legislation that makes it more difficult for prostitutes to negotiate the sale of sex in private.
That's because the legislation criminalizes customers who pay for sex and bans sex workers from advertising in newspapers or online.
It also prohibits them from discussing the sale of sex anywhere someone under the age of 18 might be present.