VENICE, CA – Bonnie Rotten continues her amazing 2015 U.S. feature dancing tour this week with a two-night appearance at Double Visions in Horsham, PA.
She will be on stage Friday and Saturday nights, March 13and 14, doing two shows each night. It was almost a year ago when Bonnie was at the club for two incredible nights that are remembered most fondly by the club's patrons and owners alike.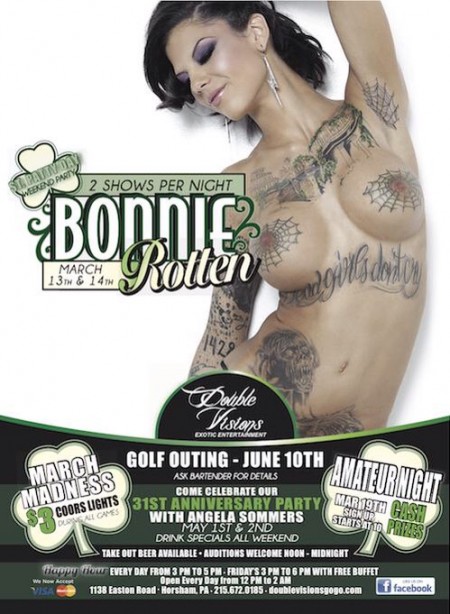 Also fresh in the memory of many fans is Pipedream's Bonnie Rotten Collection, which debuted last July. The entire collection was sold out before it was shipped, immediately becoming one of the most successful adult star/novelty manufacturer deals in history.
Bonnie leads the industry with 8 nominations for the 2015 X-Rated Critics (XRCO) Awards. She is nominated for Female Performer of the Year; Best Director (Parody); Best Actress and Best Parody (Drama) for Cape Fear XXX (DreamZone/Vantage), which she starred in and directed; Best Parody (Drama) for Sisters of Anarchy (Digital Playground); Superslut (which she won in 2014); Orgasmic Oralist; and Orgasmic Analist.
Bonnie is also nominated for Performer of the Year in the Popporn Awards.
Double Visions is located at 1138 Easton Rd, Horsham, PA. For more information call 215.672.0185 or go to http://www.doublevisionsgogo.com/home/home1.html.
Fans can vote for the Popporn Awards at http://www.popporn.com/popporn-awards/a-4.
Visit her official website at www.BonnieRotten.com. Fans can buy lots of products, including videos, memorabilia, novelties, DVDs, clothing and lube. Content will continue to be loaded onto the site.
Follow Bonnie on Twitter @thebonnierotten. Her official website is www.bonnierotten.com. For everything Bonnie go to http://risingstarpr.com/news/?page_id=4171. 
??