Ronaldo is embarking on a new career – as a porn magnate, it was reported today.
The World Cup winner is reportedly hoping to buy the huge Playboy franchise in Brazil.
The former Real Madrid striker-turned-businessman, 35, is believed to be close to making a bid for the popular men's magazine.
His marketing firm 9INE already manages images rights to some of Brazil's biggest sports stars, including football prodigy and new Barcelona signing Neymar.
Sources close to the star, real name Ronaldo Nazario de Lima, told Brazil's Extra newspaper he sees the soft-porn publication – Brazil's tenth best-selling magazine – as a lucrative business opportunity.
Playboy in Brazil has the third largest readership of the magazine in the world, reguarly selling over 250,000 copies a month – but sales have fallen in the last decade from sometimes over a million in the 1990s.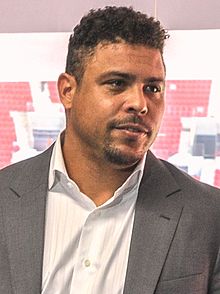 Friends of the footballer said Ronaldo – nicknamed The Phenomenon in his native country – believes his 'midas touch' will help rejuvenate the magazine.
Ronaldo retired from football in 2011 after a glittering career.
He scored a record 15 goals in World Cups and in 2002 won the World Cup for his country, scoring two goals in the final.
Since then his shrewd investments and endorsement deals have made him a billionaire, according to estimates.
He receives around £10 million [$15M USD] a year from sponsors including Nike, Fiat and Duracell, while his company 9INE is set to make £15 million [$22.5M USD] in 2014, according to a spokesman.
He also owns a chain of gyms, a sports health clinic and a six-story building which houses a Rio de Janeiro university, as well as a nightclub in Rio's most affluent neighborhood, Leblon.
And he has millions of pounds worth of real estate, including apartments in Rio, Sao Paulo, Paris and Madrid, and his own private island off the Rio de Janeiro coast.