A New York Ivy League university is in the midst of a pornography scandal after a wannabe sex star stripped off on camera in the library.
With rows of academic books and study desks lining the walls, you might expect students to arrive in the Cornell law school library with tools such as a calculator and pencil case.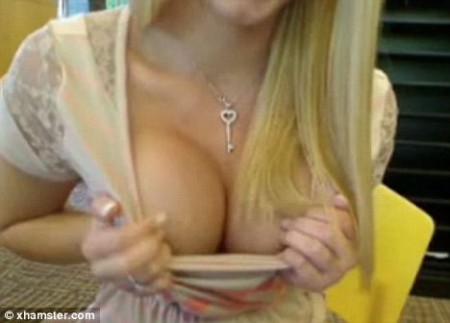 But not Cameron Knight, the amateur model believed to be the star.
She had other things on her mind and instead walked into Carpenter Hall, the school's engineering library, armed with a pink bag of racy toys.
In the graphic five-minute-long footage the raunchy blonde filmed herself on a cell phone performing a solo sex act, despite being broad daylight, and in the presence of others bent over their studies.
Her debut complete, Miss Knight then posted the video onto a college message board where it was viewed by thousands.
As students took to social media identifying first the library and then the girl, the university began damage control, insisting that the girl does not study at the school and lamenting her actions as being 'very sick'.
Miss Knight has since removed her Twitter feed.