LOS ANGELES – Mindbrowse.com, "Women in Porn: Shattering the Myths" (WIP) debate series is almost upon us. Slated for Wednesday January 14 at 1pm PST, this will be the panel's first live event in front of a studio audience.
"I'm really excited to see how the presence of a live audience affects the discussion," said Sssh.com's Angie Rowntree, who produces all MindBrowse events. "Our debates and discussions are always vibrant, engaging, and at times very spirited. I anticipate having an audience in the room will only add to the energy. I'm so thankful to XBIZ for inviting us to hold one of our discussions at the 360 conference, and to Lauren from 7 Veils for coordinating the live Tweeting and all her efforts on behalf of Women in Porn and the other Mindbrowse.com events."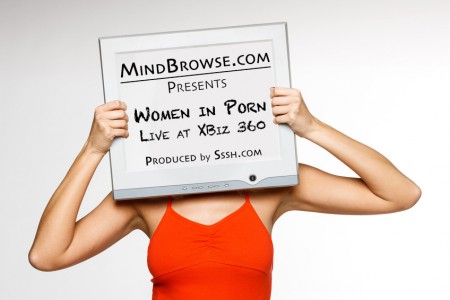 "Women in Porn: Shattering the Myths" is an interactive panel discussion that brings prominent individuals working in the adult entertainment industry together to debate the nature of women's' changing roles and issues that currently confront the industry.
The panel will include two participants from prior MindBrowse.com debates: Penthouse Managing Director Kelly Holland and author/attorney Frederick Lane.  There will also be two newcomers to the event; director/performer Courtney Trouble, and sex educator, writer and coach Elle Chase.
During the discussion, the panel will be assisted on stage by "celebrity tweeters" Jacky St. James and Alex Chance who will spur Twitter users by contributing their own observances and perspectives on the debate.
Jacky St. James is an award-winning writer and director who says her goal is "to change women's views on sexuality and help them embrace the normalcy of dabbling in the XXX world from time to time" through her work.
Since her start in the adult industry in 2011, Alex Chance has quickly risen to fame, performing in scenes for a who's who of the industry's top adult studios. This year, Alex has received the AVN Award nomination for Best Actress and the XBIZ Award for Best Sex Scene in a Couples-Themed Release.
The panel will be moderated by Dr. Chauntelle Tibbals, whose fields of study include gender, sexuality, work and organizations, new media and popular culture.  She has been quoted and cited extensively by cultural and news media outlets including CNN, Business Insider, Slate, and NPR.
"This promises to be an entertaining and enlightening event –  one you don't want to miss!" says Rowntree.
Following the discussion, attendees can meet and mingle with the panelists, the celebrity tweeters and the rest of the Mindbrowse.com crew. For those who cannot attend the 1pm Wednesday session in person, the Women in Porn discussion also can be viewed online live and in real time on Mindbrowse.com at 1:00pm Pacific / 4:00pm Eastern time. As always, viewers also can participate in the session on Twitter, using the #SexTalkTuesday hashtag during the hour-long show.
For more information about the Women in Porn debate series, or to watch previous shows, please visit www.MindBrowse.com. For more information about Sssh.com, the web's premier porn site for women, contact Angie Rowntree at editor@sssh.com. For more information on the XBIZ 360 conference, go to www.xbiz360.com