The girls of Television X have launched a bid to become Christmas number one.
The adult channel has teamed up with Pornhub Records to create 'Coming for Christmas' by TVXbabes.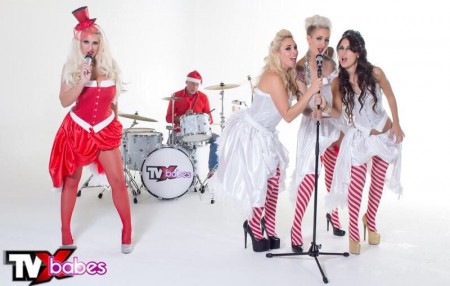 The single will be available for purchase worldwide. Pre order Now on iTunes.
'Coming for Christmas' features Television X star Brooklyn Blue on lead vocals and Ben Dover on drums, while Angel Long, Jess West and Victoria Summers take on the backing vocals.
This high-energy, fun Christmas contender features smile-inducing innuendos and witty puns all wrapped up in a tasteful package.
The poptastic track is accompanied by a festive video featuring the TVXbabes causing Christmas mayhem in the studio. Brooklyn cooks the turkey while Angel Long ransacks the presents all piled up on the glittery sleigh and Ben Dover sneaks a kiss under the mistletoe.
Both the track and the video were created and produced in house at Television X HQ in London, U.K., and the video was directed by Television X's Anna Kieran, who is also the brains behind the Christmas campaign.