She hasn't been in the news recently, so it makes perfect sense that Courtney Stodden is showing off her new boob job. The teen bride of actor Doug Hutchison upgraded her C cups to a D cup, not unlike "Backdoor Teen Mom's" Farrah Abraham.
She talked to E! News about the change, saying, "I just love the way my shape looks. It adds more curves and it just makes me feel more sexy and more like a woman."
She claims that at first her husband, age 53, was actually against the enlargement. After "little debates" though, Stodden says "I won and here I am."
Courtney, who doesn't look like any 18-year-old on the planet, is a big fan of her newest addition. She linked to a photo of herself on Twitter, writing,
"Check out my new girls in a bikini." In related news, it's unclear if she actually has a job.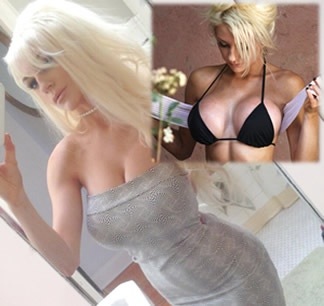 source