There's a certain furlough-related friskiness apparent in D.C., as a government shutdown threatens to put some 800,000 workers deemed non-essential on involuntary holiday.
Seems some of these folks are taking full prospective advantage of not being in the office by looking for companionship, and other things, on Craigslist.
Here's a smattering of shutdown-related personals. Sensitive souls, or those who are in fact still in the office, don't read read on. Seriously!
Furlough Liason – m4w – 37

37 MWM who will have plenty of time on his hands come tomorrow and would like to put those hands (and other things) to good use during that time. I am 6'1 165 br/br. Hung (9″) with a great tongue which I promise to use well. I am safe, sane and respectful. I can host, travel or get a room. I aim to please so hit me up if this sounds good.

Fool me once, shame on you. – m4w – 30 (N.va)

So, is it ground hog day all over again. As the saying goes, Fool me once, Shame on you. I still believe in Civil Service, Shame on ME.

Are you a civil service employee who has figured out your essentially non-essential (lol)? What are your thoughts about this continuing dysfunction when CR sounds like an accomplishment. I'm just ashamed by our leaders in Congress or shall i say Government over all.

What are your plans for the free day on Tuesday ? I guess i'm just posting on here to look for some like minded people who are frustrated by this situation and just want to share their feelings about it.
m4w
m4m
m4wm
(the point is, i don't care what gender or preference you are. Just be able to have a conversation:)

Furlough fun – m4w – 30 (Chinatown)

It looks increasingly likely we'll all be enjoying an unplanned vacation next week. Who wants to have some fun to celebrate? We can't fuck over the republicans in the House, but we can fuck each other. I'm 30, muscly, good looking, green-eyed, and a government lawyer. Lets grab a drink and complain about Ted Cruz.

Wanna be My Furlough Buddy? – 29 (DMVish)

So, I woke up this morning and saw the House passed a new version of the spending bill, and the Senate isn't even meeting until tomorrow to vote on it/ work on a new bill, which most likely means I'm going to be furloughed. If you're in the same boat I am, and may have a few involuntary days off this week, we should hangout!

I'm 29, white, 6′ tall, in decent shape, love to cook, hike, watch movies, and do pretty much anything else as long as the company is good. I'm just looking for someone to spend some time with while we can't go to work, but, I am single, so if it turns into something more, awesome! Pic for pic.
Surviving the furlough panic – 42 (NW DC)
soo the morons on the hill are intent on yanking our collective chain AGAIN on this silliness. I wouldn't mind a few days off….just have to lay off my love of cap grille martinis and steaks to make up the difference…but really??? since it appears we are have a day or two next week who wants a "bad movie" and bitch about the morons on the hill(MOH) over a drink or two? me? slightly pudgy 42 yr with a quirky sense of humor, no patience for the MOHs, cynical snarky, dc resident who is diligently working to regain my 30s figure but those damn martinis keep getting in the way. damn martinis. sooo tasty. like the sci-fi and blow-them-up movies as well as opera and jazz. go figure. you? well, smart, silly, able to handle cynicism and snark, active enough to keep up and smart enough not to let the stupidity of the MOHs to get to you.
BuzzFeed collected more of these ads. Some include saucy and/or turgid photos. Many include political diatribes.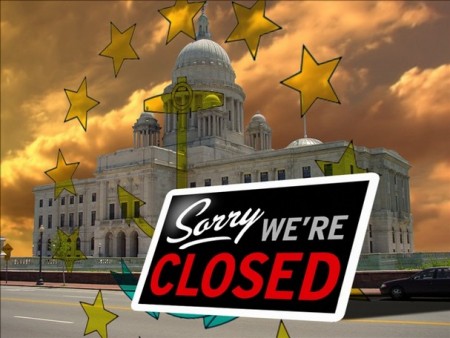 We reached out (via email) to ad-posters, to get their takes on the looming shutdown and its effect on a person's personal life. Just one responded — the "Fool me once" fellow, whose ad was posted in the "platonic" section of Craigslist, and whose response to HuffPost has been lightly edited for grammar and punctuation (hey, it's Craigslist), not at all for content.
"I don't generally post much on CL," he began, "but with this year's sequester, furloughs and now this possible furlough of civil service, it's just getting a bit out of hand."
Mr. Fool Me Once went on to say he's frustrated with Congress, saying, "They don't want to put any stress on service members and families who are living paycheck to paycheck." He said he'd "implore for them to look into how a civil service employee who has a family is having to live without any pay increase and now these furloughs. We are the rag dolls that these representatives like to push around on. Since we really don't have a voice in this system, it's just sad. Figured I would find someone else who is in the same predicament."
Fool Me hasn't yet said if he's heard from others who want to engage, platonically or otherwise, on issues relating to the shutdown. He — and the approximately 799,999 others in the same predicament — may have in-person luck finding compatriots at D.C.'s Sixth & I Historic Synagogue, which will be hosting "Shutdown Central" for furloughed feds every day until the shutdown is over.
In the event listing, the synagogue, which doubles as an entertainment venue, promises free coffee, "Political Ping Pong," board games and — what might be a cruel move, all things considered, and might even drive more folks to Craigslist in despair — a "constant streaming of The West Wing."