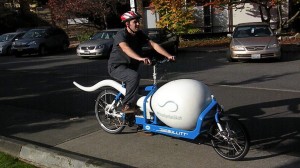 Sometimes, couples need help getting pregnant. In Seattle, that help may arrive by bicycle.
To be more specific, a bicycle with a giant sperm cell replica on it.
"It's a delivery bike, purpose-built delivery bike, and inside the front of the sperm we can store one of our cryogenic shipping containers," says Alan Dowden, lab scientist and occasional courier.
Dowden works at the Seattle Sperm Bank. The front of the bike is the bulbous head of a sperm, about the size of very large beach ball, with a long tail stretching behind. It's framed in electric blue.
"You can't help but feel a little self-conscious when you get all the looks," he says. "But it's mostly smiles, so it feels good, to be honest. It feels good."
The bike makes local deliveries, although the sperm bank ships as far as Australia. Manager Gary Olsem says the idea for the bike came from the sperm bank's parent company in Denmark, where the owner is a cycling enthusiast.
"He was looking for a way to deliver the samples in a more earth-friendly way, that also could be used as a marketing tool to bring more attention to sperm banking in general," he says.
The bike made passerby Henry Kellog give it some thought. "I've never considered being a sperm donor before, but now that I see the bike, yeah, I'm more interested," he says. "That's an awesome bike. I love how the tail comes out the back of the bike and extends beyond the rear wheel, it's so cool."
The 10-foot-long sperm is a high-tech cooler. It holds a canister filled with liquid nitrogen — so a tiny dollop of sperm stays frozen. A donor — possibly from the nearby University of Washington campus — was paid about $50 for it. And a woman or a couple needing help with a pregnancy will pay up to $600 per sample. That covers a lot of screening to make sure it's safe.
The bike is getting a mixed reception at some fertility clinics.
"Oh my, I did discuss this with the lab director here, and he was very uncomfortable with it, just because it's so disrespectful," Gretchen Sewall, a counselor at Seattle Reproductive Medicine, says after seeing a photo of the bike.
It's hard enough, she says, for a couple to depend on a sperm donor — without having it arrive so flamboyantly.
On the other hand, if the sperm bike gains acceptance, it may be a sign that society is opening up to the topic of infertility.