As Jon Stewart said last night, "We strive to cover the issues of greatest consequence to you, the American people: healthcare, the economy, aging, penises. But only rarely do we find a story that encompasses all of these issues at once." That story? Medicare-covered penis pumps.
[TRPWL covered this story back in January — ED]
With so much Congressional debate and outrage dedicated to government-mandated birth control for women, Jon Stewart deemed it prudent to send Daily Show correspondent Samantha Bee to investigate.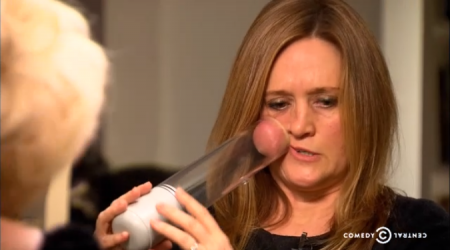 The problem so many people have with the contraception mandate, you see, is that they believe the government shouldn't be paying for a woman's sexual choices and behavior. Or as Mike Huckabee says, "[women] are helpless without Uncle Sugar coming in and providing for them a prescription for birth control." They're outraged! GOP lawmakers has already tackled the issue 40 times this year.
They don't care that many healthcare professionals consider birth control a medical necessity. They don't care that women use oral contraception for more than simply preventing pregnancies. The government shouldn't be paying for people to have sex … right?
More at The Wire…