Digital Sin announces the release of "I Love My Mom's Big Tits," the first volume in a new family taboo series depicting the unbridled lust between young men and their gorgeous, top-heavy stepmothers. Co-directed by Eddie Powell and Paul Woodcrest, the four-story vignette features performances from the industry's hottest MILFS: Brandi Love, Alyssa Lynn, Maci Maguire, and cover model Veronica Avluv.
"With the ongoing success of 'I Love My Sister's Big Tits,' a new series focusing on the family matriarch seemed like a natural progression," Eddie Powell said. "But, since its announcement, feedback has been more enthused than we could have imagined. It makes us really excited for people to see the movie. Considering our cast and the energy and commitment they brought to their scenes, we're certain it's going to be a crowd-pleaser."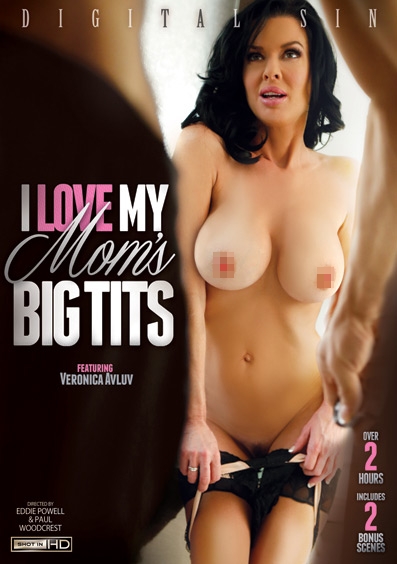 A mix of the family-taboo, MILF and big-boob genres, "I Love My Mom's Big Tits" presents four scorching scenes of stepmom and stepson seduction. Brandi Love is flattered when her stepson admits her teasing has given him blue-balls and looks to her for relief. Alyssa Lynn confronts her stepson about his addiction to big-boob porn only to discover her massive H's are to blame. Maci Maguire doesn't think twice about giving her stepson tips on how to seduce a woman until he reveals she's the object of his erections. Veronica Avluv can't keep her eyes off her stepson, peeping on him almost as much as he's been watching her.
"I Love My Mom's Big Tits" has a runtime of 126 minutes and includes an exclusive photo gallery and a candid Behind-the-Scenes featurette. Stepsons are played by Xander Corvus, Logan Pierce, Chad White, and Bruce Venture.
"I Love My Mom's Big Tits" is the first movie in a companion series to Digital Sin's bestselling "I Love My Sister's Big Tits," currently on its fifth volume. Other chat-topping family-taboo lines include "My Sister's First Anal," "My Brother Has a Big Dick," Dad's Point of View," "I Seduced My Brother," and the acclaimed series "Tabu Tales," winner of the 2015 AVN Award for Best New Series.
To view the trailer for "I Love My Mom's Big Tits," click here.
About New Sensations / Digital Sin: New Sensations / Digital Sin is a worldwide leader in adult film production, committed to creating and producing high end erotic content in a variety of genres. The studio has received multiple awards and worldwide acclaim for a variety of titles ranging from dialogue-driven features to all-sex releases. Its Romance Series, which includes such popular films as "Second Chances," "Lost and Found," and "The Friend Zone," went on to inspire the creation of The Couples Series, The Erotic Stories Collection, and The Swingers Series. The Couples Series' film "Torn" and The Erotic Stories Collection's "The Submission of Emma Marx" remain two of the studio's most highly decorated films to date, with both national and international award recognition. New Sensations/Digital Sin is also known for bringing feature-quality, filmic style to their vignette series with "The Innocence of Youth" and award-winning "Tabu Tales" being some of its most lauded releases.
To view the latest information about all New Sensations titles, visit New Sensations, The Romance Series, Tabu Tales,Twitter, or YouTube