Adult entertainment director B. Skow drew inspiration from The Rolling Stones for his newest porn movie, "Mother's Little Helper." Produced by Skow for Girlfriends Films, the two-disc DVD movie is about a dysfunctional family that mixes pharmaceuticals and sex. It is now shipping from Girlfriends Films.
The movie was inspired by The Rolling Stones' 1965 classic song of the same name, which focuses on the popularity of the tranquilizer Diazepam among housewives and how easy it was to obtain from their general practitioners. "Mother's Little Helper" takes a decidedly hardcore twist on the tale behind the lyrics.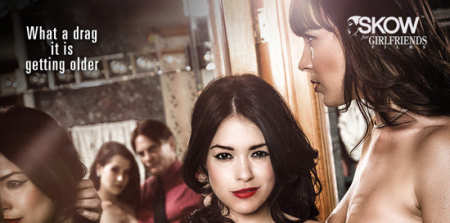 >"I recently heard the song again, and on listening to it closely, I felt there as a great story to be told in an adult film," Skow said. "It's unorthodox and out of the ordinary, but the movie is dramatic, topical, and extremely sexual and arousing at the same time."
Skow's "Mother's Little Helper" follows the sexually-charged life of Angie, who is rapidly going crazy and taking her husband Mick and step daughter Bianca down with her. The only one who could bring her back from insanity is Emily – but the only problem is that Mick killed her. Mick decides to enlist the help of his ex-wife, Claudine, a pharmacist whose talents could bring back Emily, if she is willing to help the man who broke her heart.
"'Mother's Little Helper' shows that B. Skow is not only uninterested in slowing down for even a moment, he's also a director of a singular, uncompromising vision, willing to go places that other directors simply won't," wrote Fleshbot.com contributor Tucker Bankshot.
To view the hardcore trailer for "Mother's Little Helper" on Fleshbot, click here.
Starring Dana DeArmond, Ava Dalush, Kacey Warner, and Penny Pax, "Mother's Little Helper," will be available on DVD Friday, September 11. To download the cover art from Girlfriends Films' site, click here.
The movie pairs Dana DeArmond with Alec Knight, Kacey Warner with Dane Cross, DeArmond with Ava Dalush, Penny Pax with Evan Stone, and an all-girl three-way with DeArmond, Dalush, and Warner.
Disc 2 of the two-disc set features four bonus scenes that include a scene from "These Things We Do," with Siri, Steven St. Croix and Dahlia Sky; a scene from "Daddy's Girls," with Maddy O'Reilly and Alec Knight; a scene from "Proud Parents," with Casey Calvert and Kurt Lockwood; and a scene from "The Gardener," with Jessie Andrews, Eric John, and Clover.
Through his Skow for Girlfriends Films label, Skow is quietly reshaping the landscape of the adult industry, as the award-winning director takes his experience from mainstream and adult work into a new movement being labeled Progressive Porn. Skow's Progressive Porn Movement demonstrates how unique his style is, whether in how he approaches gonzo or feature porn movies.
For access to all movies from Skow for Girlfriends Films, as well as box art and trailers, click here.