Belle Knox, the Duke University student turned porn star who has skyrocketed to fame since her identity was revealed earlier this year, will serve as a special guest moderator for the Twitter-based chat program #SexTalkTuesday on July 15 from 4-5pm Eastern Standard Time, #SexTalkTuesday sponsor Sssh.com announced today.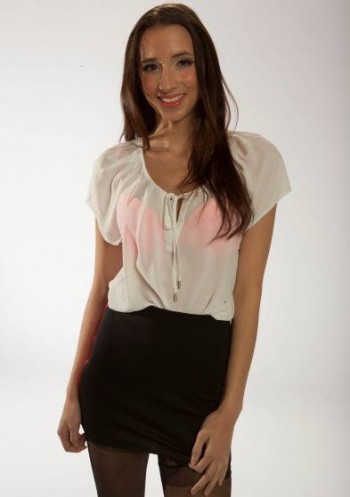 "We're very excited to have Belle moderating #SexTalkTuesday," said Angie Rowntree, owner of Sssh.com and founder of #SexTalkTuesday. "I really admire Belle for the way she has stood up for what she believes in during her rapid rise to fame. She's at the leading edge of a generation of young, sex-positive feminists who have embraced adult entertainment and are working to put their own stamp on the industry."
Knox has garnered headlines not only due to the fact that she's actively performing in adult videos while pursuing a college degree, but because she has had the audacity to say that she finds sex work empowering, and believes that it can be empowering for other women, as well. Belle became the first porn star to ever be allowed to appear on "The View". At Duke, Knox is working toward a degree in Women's Studies, and has spoken at the university on subjects that include sex work and labor politics.
Regardless of the issues that might be discussed, or how her own experiences will figure in to the #SexTalkTuesday conversation, Knox said she's really just looking forward to interacting with fans and supporters directly and in real-time.
I am so excited to host #SexTalkTuesday," Knox said. "It will give me a great opportunity to connect with my fans!"
A lively and stimulating Twitter-based chat held every Tuesday of each month from 4pm to 5pm Eastern Standard Time, #SexTalkTuesday is hosted and coordinated by Sssh.com, the web's premier destination for porn made by and for women. To participate, go to twitter.com and use the #SexTalkTuesday hash tag during the hour-long show.
For more information, or to inquire about serving as a guest moderator, contact Angie Rowntree at editor@sssh.com