The ex-husband of the sex scandal Bengals cheerleader teacher has spoken of his 'disgust and betrayal' at her affair with a student who he believes she is going to marry.
Nathan Wilburn, who even naively went on TV to defend Sarah Jones when news of the scandal first broke, said he feels 'sick to his stomach' at the web of deceit the 'conniving liar' had spun.
He revealed how his ex-wife only told him two days before she appeared in court this week that she was going to admit the offense in a plea deal to keep her out of prison – and even then still insisted she was innocent.
In an exclusive interview with Mail Online he told how days later seeing them walk from court hand-in-hand was 'like a kick in the gut'.
Sitting at the kitchen table in the ranch-style home of his grandparents, who have brought him up since he was a baby, Nathan can barely keep a lid on the storm of anger, disbelief and humiliation that is tearing him apart inside.
As he stares at a photo of their wedding day he says sarcastically: 'That was supposed to be happiest day of our lives.'
The young man struggles to find the right words to describe the scale of the betrayal, often lapsing into silences.
'She is a sexual predator and should have been locked up for what she did. Teachers do not have sex with their students,' said Nathan, 26.
'She was in a position of authority and abused it. She abused that boy.
'If I were a teacher and had an affair with a teenage girl I would be looking at prison time. There is no justice there. It is just wrong.'
Earlier this week Jones, 27, admitted in court that she had a sexual relationship with one of her students while she was a teacher at Dixie Heights High School in Crestview Hills, Kentucky.
Her student lover appeared at her side but the court did not hear what the current state of their relationship was.
She had faced up to ten years in prison after being charged with sexual abuse following her arrest in March of this year.
Jones had initially emphatically denied the charges and in a TV interview urged the public to hold off coming to judgment until the 'truth came out'.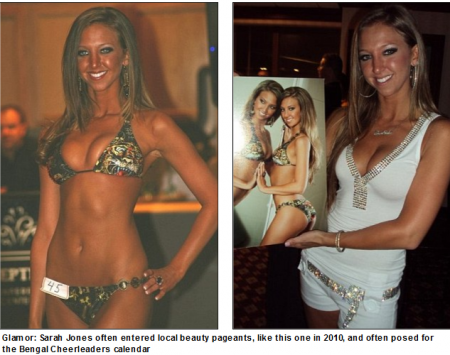 She was due to go on trial this week with prosecutors ready to reveal thousands of sexually explicit text messages she had sent the 17-year-old boy.
But in a deal agreed by prosecutors, Jones pleaded guilty to lesser charges of sexual misconduct and custodial interference and was given five years probation. She was also banned from ever teaching.
For Nathan, who had dated Jones as his high school sweetheart before their marriage in July 2011, the confession hit him like a bolt out of the blue two days earlier in a phone call from Sarah.
He had just come home from work back to his modest home in Independence, Kentucky, he was tired, and was looking forward to spending the rest of the day relaxing.
'Two days before the plea deal she called to tell me she was going to plead guilty. I was just stunned. I'd heard rumors but had refused to believe them because she had been so insistent.
'Even then in the phone call Sarah kept on saying she did not do anything wrong. She told me she was innocent and doing it to protect her mom – but innocent people don't plead guilty.'
It wasn't the first time he had had a tearful phone call from Sarah protesting her innocence – and not the first time he was too willing to swallow her lies.
Nathan remembers vividly when he first found out about that his wife was being investigated for having sex with the student, who she had been tutoring since 2008, in November 2011.
'It was another phone call from Sarah. She was crying and saying it was all lies, that she didn't sleep with one of her students. She made out that people who were jealous of her as a cheerleader with the Bengals were spreading the lies.
'I really wanted to believe her. What husband wants to think their wife is going behind their back for sex with someone else? She just kept saying: "Nathan, it's not true. They are all lies. They are just rumors".'
And the lies continued and his belief in her did too, even when prosecutors said the sexual affair had began while she was still married.
'We had been together since I was 14-years-old. She even swore under oath that I was the only man she had slept with,' said Nathan. 'I thought I knew the real Sarah, but obviously I didn't.'
Although Nathan and his wife separated after just six weeks of marriage at the end of August last year, they remained close friends and spoke on the phone at least twice a week.
'Then for her to turn round and admit sleeping with her student is like being kicked in the gut.
'It just shows what a conniving liar she is.
'The part that hurts the most is that her parents knew what was going on and they just covered up for her.
'I think they are scum for what they have done. Her mother was a school principal. She knows teachers having sex with their students is wrong.'
The boy, now aged 18, had refused to co-operate with prosecutors and his lack of assistance was one of the reasons prosecutors agreed to plea deal.
The teen cannot be named as he was a minor when the sex acts occurred and considered a sex abuse victim.
Nathan said he has since heard Jones and the teen could be planning to announce their engagement.
'That would just be sick,' he said.
'What sort of message is that sending out to other kids,' he said. 'So it's all right to have sex with your teacher and get away with it?'
Just looking at her face as she left the court you could see she was loving all the attention. She loved it.'
Nathan admits he has sought counseling and he has also buried himself in work at the logistics department of Toyota cars in nearby Erlanger.
While he has had to try and rebuild his life and endure the humiliating stares from the people in the small Kentucky town who know him as the husband of that sex scandal teacher, Sarah and her teen lover are believed to have negotiated a deal to tell their story on a national TV network.
Nathan said he had no idea his wife was cheating on him during his short-lived marriage or even before.
He said as one of the cheerleaders for the Cincinnati Bengals NFL team she had ample opportunity to be away from home.
'She has lied about this affair. Who knows if there were others?' he said. 'For all I know it could have been going on for many months. She had been tutoring this boy since 2008. No one knows when it all started.
'She was always getting texts from other students. I thought they were from girls on the cheerleading squad, but given the thousands of texts prosecutors say they had many must have been from the boy.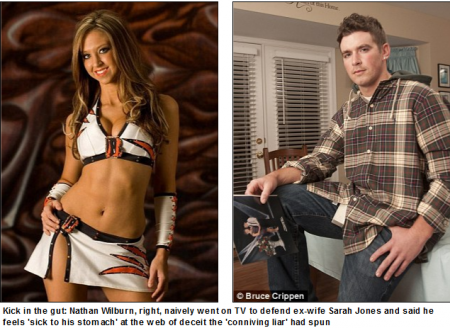 'I guess I was too trusting. What hurts most is the thought that in the weeks before our wedding she was involved with him.
'I've got no proof when the affair began but Sarah has proved to be such a liar, I don't know what to believe.'
Nathan had met his future wife when they were both students at Simon Kenton High School in Kentucky.
He said they were friends for three years before dating seriously when he was 17, and Sarah, 18, in her senior year.
Like other teens they shared many happy memories from regular prom dances and dates going to the movies.
While Sarah trained to be a teacher at Northern Kentucky University Nathan started work for Toyota.
In July 2010, he and Sarah flew to Disneyland in California where he got down on one knee a proposed.
Remembering the happy occasion Nathan said: 'Sarah burst into tears and it was just such a special day. Her parents knew I was going to ask her to marry her, but she had no idea.
'I was with the woman of my dreams and we had such big plans together.'
By this time Sarah was teaching English at Dixie Heights High School.
She was a key member of the cheerleading team, posing in their calendar and one of the most vivacious women on the team.
In July 2011 Sarah and Nathan were married and later had their reception at the Bengals stadium.
'It was a great day. There were about 400 people there and Sarah looked stunning,' said Nathan.
'We both said it was the best day of our lives. We had so much to look forward to.'
The couple honeymooned in St Lucia, but by the time they returned to Kentucky the marriage was already in trouble.
He said: 'She just changed and we were arguing all the time. At the time I had no idea what was going wrong, but I now know that she was seeing this other boy.
'Our marriage just broke down and after six weeks we separated.
'I was devastated. I had been with Sarah since I was 14-years-old. No one wants to see their marriage end so quickly.'
Nathan said Sarah persuaded him to try and get the marriage annulled on the grounds that it wasn't consummated.
'That was a lie, but I said I'd go along with it but we never proceeded along those lines.'
By October 2011 rumors were sweeping through the High School that Jones was involved with one of her students.
Jones quit her job in November 2011 as police said they would launch an investigation.
In March this year they filed charges that could have resulted in a ten-year sentence upon conviction, and a month later Nathan and Sarah were divorced.
Nathan even appeared on the TV show Inside Edition and spoke up in support of his ex-wife.
Jones appeared on Good Morning America where she too protested her innocence.
'Of course we now all now she was lying through her teeth,' he said.
His grandparents Fred and Diane had also voiced their support for Sarah until the undeniable truth emerged.
They are left disgusted by her admission of guilt and believe she has got off lightly.
'Nathan has had a terrible time over the last year and all because of her,' said Fred, 62.
'We adored Sarah. She practically lived with us she spent so much time with Nathan and then she turns round and does this. What angers me is that at the wedding she knew what was going on.'
Nathan is equally disgusted by Sarah's mother Cheryl Jones, a former school principal, who pleaded guilty to tampering with evidence.
Mrs Jones admitted sending the teen a message to get rid of his phone with the incriminating messages.
Like her daughter she was given probation.
Mrs Jones was a school principal so she knows better than anyone that teachers cannot cross the line,' said Nathan.
'I think she knew what was going on and just covered for her daughter. When we were married Sarah was always getting texts from students.
'I remember speaking with Cheryl and saying it wasn't healthy and she told me she would do something about it.
'All she did was to cover up for her daughter.'
Jones' lawyer failed to respond to calls from MailOnline.
See also:
Former NFL Cheerleader Sarah Jones Denies She Is the 'Female Sandusky'
Sarah Jones' Ex Weighs In On Sex Scandal