It's hard to try and interview someone you talk to on a regular basis. With that being said I spent countless hours researching for this interview, I watched over 1000 hours of Kayden's sex scenes, I inspected her vagina personally for texture and taste, and as I massaged her breasts everything started to fall into place: First, Darren McFadden will play this weekend soI need to cut Michael Bush, and Second, Kayden is not only hott but smart. She's the only person I've sent questions to who sent them back in a Word doc. That has to mean something…
1.. I've been Twitter stalking you and have noticed you've been doing a lot of traveling. Fill everyone in on where you've been..
I basically conquered Eastern Europe in a week by car after spending a couple of weeks in Bulgaria. I was in Bulgaria shooting an indie movie that will be ongoing through March of next year but when I had a free week before I had to fly back for Thanksgiving I grabbed my driver and we took a spontaneous road trip. We picked up another person without real world responsibilities somewhere in Greece on a whim and then doubled back and hit Serbia, Austria, Czech Republic, Slovakia, Slovenia, Croatia, then came back through Serbia and made it to Sofia with a few hours to spare before my plane took off. We're planning on doing the same thing through other countries over Christmas and then again when the movie wraps. My passport looks awesome.
2. AVN nomination's came out today , are you pulling for anyone?

Obviously I want to win something. I think we have a great shot at the group sex scene category. Digital girls do it best (: As far as the other awards go, I'm pulling for Jesse Jane for her role in Fighters and Jesse Andrews for Best New Starlet, and Stoya for her scene with Mick Blue.
3. You're hosting a red carpet event at AVN. Do you think they choose you because you're smart or because you have fantastic boobs?
How do you know it wasn't a casting couch situation?
4 Do you think the AVN nomination process is fair, or do you think its geared towards big budget studios?
I think big budget studios do put out better product for the most part. Bigger budgets directly translate to more creative flexibility, the ability to pay top talent and directors, etc.
5. What do you think about Mark Spiegler getting a HOF nom??
I think it's freakin sweet. I wanna do that when I grow up.
6. When your not engaging in premarital sex on film, what do you do in your spare time? and don't say masturbate
I sometimes masturbate. I disappear on spontaneous mini vacations. My favorite city is New York. I'm slowly trying to move there. I write, I see my horse, I work out (not always). Lately I've been doing more of the mainstream stuff so that's taken up a chunk of time. And I sleep in. A lot.
7. Knowing your love for horses, suppose you, Riley Steele and Jesse Jane get lost in the woods. You're hungry but refuse to eat the horses. Which girl do you eat and why??
We don't have to get messy about it. We'll probably just go for Pinkberry after routing ourselves out on our iPhones. (after explaining to her the benefits of a slow roasted Riley Steele, she decided eating her would be the right thing to)
8. Would you slow roast her over a open flame or eat her raw?

The frozen yogurt? That would melt it.
9. When is your Digital Playground contract up? Do you plan on re-upping?
I plan on finishing out my porn career at Digital. It's been a very strong fit and I'm always excited about the projects.
10. Do you have any toy companies you endorse? which ones?
I have a toy line with Topco. Unfortunately the newer stuff we're working on isn't on the market quite yet.
11. Ever think about getting behind the camera when you stop performing?
Sometimes I think about getting behind it while I'm performing, but that's mostly because I want to check the lighting. It would be fun to do a couple of projects on the other side of it though.
12. If you could direct and B/G and could use any of the tested talent, who would you pick?
Stoya and Rocco Siffredi. I'd just want to see what happens.
13. Are you still mad at me for not cuddling with you after you drugged me and forced me to have sex with you?

I thought it was very inconsiderate. I put in way more effort than you did.
14. Any great dirt you can give me about Digital? I won't tell anyone…
Yeah. We're gonna win all of the awards this year. Shhh.
15. Ive noticed that you hang with your mom quite a bit. What does she say about your day job?
The conversation is mostly peppered with inappropriate questions and strange assumptions.
16. Does she know about us?

In due time my love.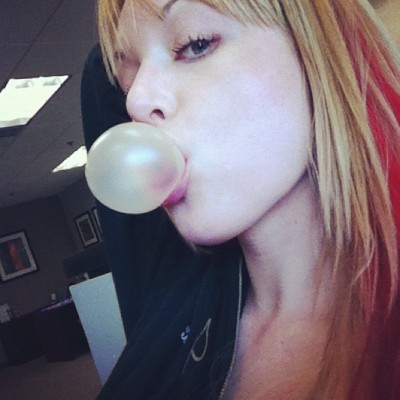 17. TRPWL is a pro bush website, any chance of some bush growth in the future? It could be good for biz, The Kayden Kross pocket bush would be huge.
I'll sleep on it.
18 Have you been doing any writing?

Constantly. It's not as much blog material though. I'm trying to branch out.
19. What kind of feedback did you get on your AVN PWL article?

The feedback was surprisingly strong and overwhelmingly positive.
20. Do you think the industry learned anything from the PWL mess?
If anything, I think the message that was sent is more of a deterrent to future online bullies. The cloak of anonymity was pulled away. Accountability is a powerful thing.
21. Favorite non porn movie of the last 5 years?
Like the rest of the world, I'm obsessed with Tarantino. I really liked Magnolia and Trainspotting. My all time favorite would have to be Natural Born Killers.
22. Give me one song you can listen to over an over without burn out

60 Feet Tall by the Dead Weather
http://www.youtube.com/watch?v=rfenJiS5NV4
23. I need to know who's paying for dinner in Vegas? You know Whiteacre is a Jew so he's not gonna do it.
I'm Jewish by injection. I fucked James Deen. Guess it's all on you. (well, one buffet one plate, we all share)
24. So whats next for DP as far as releases?
That's a good question. I've lost track of my movie titles. The most recent release was Sex and Corruption. Highly recommended by the way.
25. Do you have a opinion on on the mandatory condom issue? you think it will move porn out of LA?

No but I think it's bullshit.
26. Tell me why you think my blog is the best..
Because you're you.
27. If there was a fire would you call me dad?
I never liked logic much anyway.
Twitter
Tumblr
Formspring
Club Kayden
and of course
Digital Playground