The latest installment of the eXXXotica Expo has come and gone for NJ.  Fans flocked to Edison from all over to see their favorite Porn Stars, like Jenna Jameson, Kayden Kross and Riley Reid, in real life. Others attended to meet their favorite Cam Girls, from MyFreeCams and Chaturbate. This year I was most interested in the expanded eXXXotica Dungeon.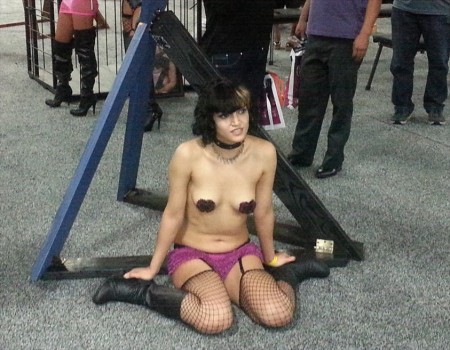 The eXXXotica Expo seems to have fully embraced BDSM and the interest it draws. The greatly expanded area given to the Dungeon was put to good use. Spanking benches, sex swings, sub cages, even a steel chain spider web in a wooden frame, for tethering subs in need of discipline, were all on display and being utilized to entice and entertain the masses.
In addition, they offered multiple BDSM Lifestyle seminars, called The Dungeon Academy, for those looking to spice up their sex lives. From a Master fielding questions, to An Introduction to Rope Bondage, they took an exponential step forward from last year's fare.
Also present were multiple vendors selling all the accoutrements needed to allow the kink to flourish in your bedroom. Restraints, whips, floggers, ball gags, masks, etc. If you could imagine it, it was either there or you took a business card from someone who could procure it or craft it.
I really hope to see further expansion in time for the eXXXotica show in Atlantic City, April 11-13, 2014 at the Trump Taj Mahal. I feel there is no better way to draw kinky women into a room full of deviants, such as myself, and turbo charge their sex drive than leather, chains, rope and the sound of a riding crop impacting a lovely tush.