EXXXOTICA, the nation's largest event dedicated to love and sex, (http://exxxoticaexpo.com) is no stranger to massive exposure in the media. With hundreds of thousands of dollars in advertising, marketing and promotion for each and every EXXXOTICA produced, no other event of its kind can match it. For the show's return to New Jersey, November 7-9 to the New Jersey Convention and Expo Center in Edison for the seventh straight year, the 2014 edition of EXXXOTICA New Jersey is looking even bigger and brighter — complete with a billboard in the busiest and most well known neighborhood in the world… Times Square.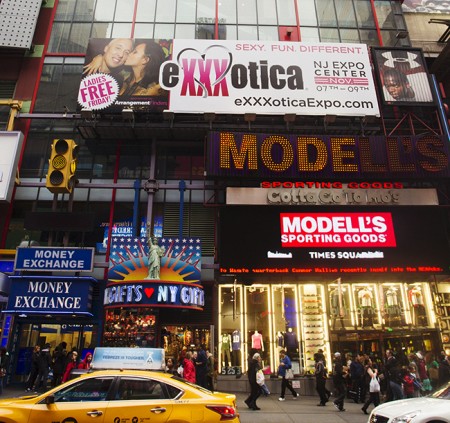 A comprehensive advertising campaign is currently underway, featuring billboards that blanket the area surrounding EXXXOTICA and the convention center. Major highways all over the Garden State feature both electronic and static billboards, as well as ads on public transportation. One of the most visible billboards is EXXXOTICA's first-ever Times Square billboard just outside of the Port Authority Bus Terminal. Seen by hundreds of thousands of commuters daily, this prominent board is a crowning achievement for the expo that offers attendees something sexy fun and different, and exhibitors access to a cash-in-hand crowd.
For almost 10 years and 24 shows overall across the nation, the EXXXOTICA Expo has been seen on the news on every major network. It's also been featured on programs on CNN, ESPN, Telemundo, MSNBC, Univision, E! and even "The Jimmy Kimmel Show." Social media and Internet campaigns have inundated the web with all things EXXXOTICA, with numerous mentions on popular sites such as TMZ, Examiner and others, and major newspapers and publications such as the Daily News, New York Times, Village Voice, Bergen Record, Star Ledger, and even the Wall Street Journal have continued to cover the event. The top radio stations in the area and "The Howard Stern Show" and other satellite radio programs have and will also air details, interviews and ads for EXXXOTICA.
"We pride ourselves on EXXXOTICA's campaigns. We spare nothing in getting the word out about our shows, and our attendance is a living and breathing testament to this dedication," said J. Handy, Director of EXXXOTICA. "When we started EXXXOTICA our goal was to always bring a show that wasn't afraid of the mainstream attention, and could live up to the hype. Now with our Times Square billboard we have truly taken this up a notch." All of the billboards also promote EXXXOTICA's infamous "Ladies Free Friday" presented by ArrangementFinders.com (http://arrangementfinders.com), which grants complimentary admission to all female attendees for the first day of the show.
The three-day event will feature over 150 of adult entertainment's biggest stars, plus approximately 100 exhibitors offering everything from the wild to the mild. A jam-packed schedule of informative and entertaining seminars, as well as shows on a massive entertainment stage and the interactive EXXXOTICA Dungeon also highlight the show. There are also official after parties each and every night for those who want to continue their celebration of sexy at the end of each day.
VIP and general admission tickets are on sale now at http://nj.exxxoticaexpo.com/tickets.
A complete schedule of all of EXXXOTICA's stage events and seminars is available at http://nj.exxxoticaexpo.com/schedules.
Exhibitors interested in securing booth space and sponsorship for EXXXOTICA can contact sales@3xevents.com or call (267) 909-9760.
Media interested in attending may apply for credentials by emailing pr@3xevents.com.
For all event info, visit http://www.eXXXoticaExpo.com.