Last week, the Los Angeles City Council approved a city ordinance that requires the use of condoms on adult movie sets.
How will the new law affect porn's bottom line?
According to two pornographers I spoke to, that's the question on everyone's mind.
"It's more of a nuisance than anything else," says Steve Hirsch, founder and co-chairman of Vivid Entertainment, arguably the most high-profile producers of adult movies in the world. Because the law's reach is limited to the city of Los Angeles itself, the San Fernando Valley, where a significant majority of adult movies are made already, and beyond remain fair game.
Currently, Vivid movie shoots are "condom optional," Hirsch says, adding, "we believe in letting the performers make the choice." Performers are required to be tested for HIV every 30 days and present proof of a negative result to sets where they will be working.
Ultimately, if the law is extended to make shooting porn in Los Angeles too difficult, Hirsch says, "We'll look for other areas that are more welcoming. And we'll take the thousands of jobs we create along with us. If we leave the state, those dollars and the tax dollars will go along with us."
These days, the adult business doesn't need anymore headaches. "I call it the perfect storm," Hirsch explains. "We're dealing with free porn everywhere, there's an immense amount of piracy, and a difficult economy that seems to be getting better but is still difficult."
So, how big is the adult business today? That's hard to say. The numbers on porn are notoriously difficult to come by, and porn producers are disinclined to share the inside scoop on how they're doing financially.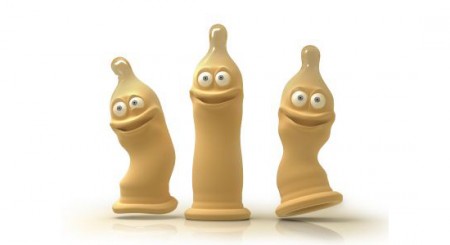 I asked Bob Christian, General Manager of Adam & Eve Pictures, for some hard numbers on porn.
"I wish I knew that," Christian says. With some quick figuring on his calculator, he estimated domestic adult video revenue in 2011 at close to $1 billion — which seems inflated, when the reality is many porn companies are struggling.
"I bet that's as wrong as any other number anyone would give you," Christian admits. "It's not an industry that has that figure technically compiled. Gee, Hollywood — they have databases that track all that. The adult industry does not."
How do porn stars, sex writers, and smut peddlers think the new law will impact porn?
Here's what they told me.
Damon Brown, pop culture journalist and author of Porn & Pong: How Grand Theft Auto, Tomb Raider and Other Sexy Games Changed Our Culture:
As noted by people within the adult industry, making condoms mandatory fails on two levels: It cannot be enforced successfully and it will likely put more actors in danger.

First, there is no realistic way that "condom police" can make sure actors are wearing protection and that the directors are successfully following regulations. [Adult movie production companies] Vivid, Wicked, and other majors will have to tread more carefully, but the sheer number of releases from mid-sized, small, or even two-man studios far outweighs the output from the big guys. I'm skeptical that regulators will be in hot pursuit of each and every porn provider not using condoms. In the age of YouTube, it's just not worth the resources.

Second, the condom law will almost assuredly not protect actors, and may, in fact, put them in more danger. Mainstream pornography is a taboo-driven industry: We usually watch it to experience something we cannot in real life and, often enough, those barriers are there because of social norms. In simpler terms, porn actors fulfill our fantasies by pushing boundaries. This new law creates a new boundary, a new taboo, within pornography itself. You can bet that rebellious filmmakers and actors who are willing to create condomless porn will be rewarded in higher sales and popularity.

It's also important to note that there are more than a few pornographers that regularly use condoms on the set, particularly within the gay community. This ruling essentially treats the people within the industry like children – and will probably increase the number of them who rebel.
Satine Phoenix, retired porn star and artist:
It's about time they passed this law. If only it was around the five years I was in the industry. Not only is it common sense but it might send a little note of respect to some performers who are careless with their bodies: "Your body is worth protecting." Freedom of speech or not, this is just a good safe sex practice for everyone. People learn about sex now by watching porn even though performers are simply acting out fantasies. If porn stars are wearing condoms it might make people less embarrassed to wear condoms. Now people will want to purchase the same brands as their favorite porn star! Porn molds the general look and act of sex in our country. There's a lot of opportunity that the people who are against condoms are missing.

When you are in porn you know that it is very likely that you will end up getting Chlamydia or Gonorrhea (I was lucky enough to not have gotten any STDs). Sure you can get rid of it with a pill and move on with your life but the lasting effects and the psychological effects are lasting. Condoms give you piece of mind. Its just safe sex. I always wore condoms outside of porn. Condoms in porn is a GOOD thing!
Jane Blow, sexpert and "smut peddler":
Selling porn for the last 5+ years has allowed me to hear all sorts of opinions on condoms in porn. It also has allowed me to see what sells, why, and who buys it.

Everyone buys porn (even though the tech savvy and less concerned with – computer – viruses steal it), young women, old guys, straight, gay… your Aunt, your mailman and everyone in between. The common denominator is sex, even if they have nothing else in common. Of the few things they all look for is: No Condoms.

It destroys the fantasy they say. They watch porn to do all the things they can't do in their own sex life. There are few things you can count on in life: death, taxes, and condoms taking away from the sensations of sex.

To most porn stars, [condoms are] a nuisance. They understand being in porn comes with certain risks… as do the people who work in construction understand they could be hurt. Porn stars take precaution and are tested regularly.

Consumers, on a whole, would rather not see condoms. Sure there are pockets of people who like that their entertainment is safe. A few producers even say that condoms are optional on their sets, and talent use them, but usually they don't.

In my opinion, from the patterns I've seen in porno over the years, condoms only mean there is going to be a selling surge in porn produced pre-condoms for a while. The safe sex people will be happy. Maybe there will be less porn produced, less saturation in the market. But condoms will only play a moderate part in that; as is, the porn industry/production has slowed down because of pre-existing battles/issues happening now. Condoms are just another kink in the system.
James Deen, male porn star:
I appreciate that people are trying to look out for my health and safety however, there is a lot of misinformation in that la times article.  Industry standards require performers to be tested a minimum of once a month and condoms are also an additional option on many sets.  I have been in the adult industry for 8 years and still have yet to contract any stds and the idea of someone accusing my industry of needing further regulation is very insulting.
Tracy Clark-Flory, Salon sex and relationships staff writer:
This doesn't change the fact that there is a huge viewer demand for condomless porn. Since the new law is tied to city permits, I suspect that many shoots will simply move outside of L.A. to meet that demand.

The worst case, nightmare scenario imagined by some of the adult performers that I've interviewed on the subject: The law will actually undermine the routine STI testing procedures that the industry currently has in place — meaning condoms are used inconsistently and there is no longer rigorous testing. I desperately hope that they're wrong, but I'm not so sure.
Max Hardcore, adult movie director, asked his opinion:
Oh hell no, I'm not getting in the middle of that one.
Stoya, porn star:
Condoms are not fail-proof. Condoms break. I'm concerned that condom regulations will distract from the importance of STI testing, that condoms will be used in place of testing as opposed to in conjunction with. I wouldn't be surprised if Los Angeles finds this law as difficult to enforce as the previous condom use regulations in place from CalOSHA. I also wouldn't be surprised if the US adult industry continued to flourish in Florida and simply relocated.

Vivid and Wicked have both tried condom-only productions and, from what I understand, found them less profitable. Many of the girls I know have expressed their distaste for the idea of using condoms in scenes. Personally, outside of a long-term monogamous relationship where both partners have been tested, I've generally used condoms in my personal life. However, sex at home usually involves 7-15 minutes of penetration, whereas the penetrative sex part of a performance for an adult production usually requires 45-60 minutes to capture the necessary shots and angles. That extra half an hour or more can turn a mild irritation from the condom into a very painful experience, and cause abrasions that actually make transmission of an STI more likely in the event of condom failure.

Also; It's my body. I decide what goes in and on it.
Kayt Sukel, author of Dirty Minds: How Our Brains Influence Love, Sex and Relationships:
Frankly, it's about time.

The porn industry, unsurprisingly, has responded to the City Council's decision with anger, arguing that the government has no right to make health decisions for its workers. While unnecessary government intrusion makes for a good talking point, it just doesn't hold up here. Porn is a business: While the actors and actresses may be engaging in a private act, they are doing so for a public audience. And their acts at work have public health consequences outside the movie set.

The truth is, the porn industry's objections have far less to do with civil liberties and much more to do with the bottom line. In a Washington Post article, porn production companies maintained that the market is simply not interested in safe sex—porn consumers find condoms in films to be "distracting" and something that "ruins the fantasy."

Given that the porn industry has been dictating fantasy for decades, maybe it's time for them to see this new law as an opportunity instead of a problem—and find ways to make safe sex as hot as the unsafe variety. Condoms, a necessarily evil sometimes in even the most monogamous of relationships, don't have to detract from the experience—or even from our fantasies. And I'd love to see the media powerhouses who have inspired less pubic hair and more anal sex throw their full weight behind that kind of agenda. Because it's something that would be a benefit to all of us.
Eric Spitznagel, co-author of Ron Jeremy: The Hardest (Working Man) in Show Business:
I'm not sure if I understand. Was this law created to protect porn actors from getting STDs? I didn't realize this was something we were concerned about now. Is it like when a building is named a historic landmark? Are we sending a message to the porn industry, "Keep your unsheathed penises away from our natural treasure, Jesse Jane?" That seems weird. Are we going to make sure porn actresses get pap smears too? How about breasts exams? No? So we're not really interested in all of their health concerns, just the parts we masturbate to?

I suspect this law has more to do with how porn without condoms is corrupting the viewers. That's probably it, right? Because as we all know, porn has a subliminal effect on our sexual behavior. Sasha Grey is like Joe Camel for masturbating adults. If porn actors aren't wearing condoms, you won't want to wear condoms either. You'll be like, "Wait a minute, Sasha Grey didn't use condoms. Ipso facto, I don't need to wear a condom ever again!" That kind of irrefutable logic has always worked for me.

This condom rule is just going to ruin the whole porn fantasy for me. Now when a 38-year-old guy pretending to be a high school football jock is about to have sex with a cheerleader with breasts like fleshy medicine balls in a locker room that's clearly just a one-bedroom apartment in the San Fernando Valley, and then they pause to fumble with a condom, I'll be like, "Oh crap, I just realized that none of this is real. I lost my boner!"

I hope you're happy, Michael Weinstein. You made me lose my boner. And for what? So a girl with daddy issues won't get an STD from a guy who looks like a wrinkled Fabio? Good for you. And hey, while you're at it, could you make sure that the swords they use in the next Pirates of the Caribbean sequel are made out of super-squishy foam, just so we're 100% positive that nobody is getting hurt? Because if there's one thing I won't stand for, it's Johnny Depp getting an ouchie.
Lily Cade, porn star:
As a girl/girl performer, I initially thought that the condoms issue didn't effect me. Of course, I love my job and I don't want porn to leave California, so I was concerned by the prospect of the adult industry moving out of state because of condom regulations but I didn't feel it was my place to comment since I thought that the laws didn't directly impact me. However, when Cal/OSHA made clear what safety precautions we are actually supposed to be taking, I realized that following those rules (which included using barriers – condoms, gloves and dams – for all sexual contact, treating our clothes and set dressing as contaminated, and approaching any instance of body fluid contact with skin as an "exposure incident") would make porn impossible to shoot.

The recently passed legislation applies to porn shoots that get film permits – a lot of production goes on without them (ie smaller budget productions), and a lot of porn is shot in locations that don't require permits. We've also got other cities around the LA area to shoot in. However, I'm worried that these rules will be expanded. Plus, if the big porn companies do leave, it will drive wages down for everyone. Without the major players who can afford reasonable rates, all that will be left is the kind of amateur porn that doesn't bother to get permits and doesn't pay much.

In short, I'm against the law. Our system of testing and self regulation works.
Will Clark, former gay adult movie star:
I'm torn about this issue – I was an award winning performer in the mainstream gay porn industry from 1995 – 1999 and transitioned from that to working as an event producer and fundraiser, raising hundreds of thousands of dollars for LGBT non-profits (including AIDS organizations) so naturally I heartily encourage safer sex decisions.
But I wish that condom use was something that the straight and gay porn companies would want to encourage for their performers for health and safety reasons rather than because they are required to do so by law.

Virtually all gay companies regard using condoms as the price of doing business – not just for the sake of the health of their performers but to remain in good standing with the rest of LGBT community. But it wasn't always that way. Although some companies started using condoms in the mid 80s, it wasn't until as late as 1990 that the entire industry had their performers wear them.

Unfortunately in part due to the advances of effectiveness of HIV drugs in the mid 90s which led to a significant decrease in the life-threatening danger of HIV, an anti-condom counter culture arose, the so-called 'barebacking' culture, and along with it, a brand of videos which fetishize unprotected sex. To some degree, who could blame a community of men who had been told for a decade and a half that their sexual behavior was the reason that millions of others were dead?

These videos are still popular throughout in the gay community and the companies that make them, based mostly in Palm Springs, have a thriving business based mostly on gay men's defiance of the condom establishment –with a good dose of a resulting shame, fear and self-loathing thrown in for good measure.

Passing a law that requires all porn performers working on porn sets in LA county won't give the performers any more safety, it'll just insure that the porn companies move out of LA county.

I guess we have to do something to keep any more of our performers from contracting HIV because there's no one there telling them that HIV/AIDS has never been 'just' a gay man's disease.
Lorelei Lee, porn star:
It does seem like no one in mainstream media is talking to performers or getting any side of the story other than that of the constantly-quoted propaganda-artist Weinstein.  I'm definitely frustrated at the knee-jerk reactions of people who don't understand how sex as performance is different from sex in private, and of legislators who pat themselves on the back for their largely symbolic gestures without any apparent knowledge of or care about how the law will actually affect (or fail to affect) the industry it supposedly "makes safer."
From Forbes