BERLIN, Nov. 5 (UPI) — Reformers seeking to crack down on legalized prostitution in Germany say they are hopeful negotiations to form a new government will lead to changes. Leaders of the conservative Christian Democratic Union of Chancellor Angela Merkel and the left-leaning Social Democratic Party, seeking to form a "grand coalition" after September's federal elections, said during the weekend they are discussing ways to tighten the country's 11-year-old law legalizing prostitution.
Thousands of legalized brothels have been established, with an estimated 1 million men paying for sex every day, turning the country into what critics have called the prostitution capital of Europe.
Meant as a way to protect prostitutes from abusive pimps and provide them health guarantees and social benefits, the law has instead mainly benefited sex trade traffickers who lure vulnerable women to Germany, mainly from Eastern Europe, under false pretenses and force them to work in inhumane conditions, reformers say.
CDU and SPD negotiators say they plan a new initiative to fight human trafficking more effectively, with the aim to counteract the increasing exploitation of girls and women, Die Welt reported Sunday.
"Germany must be not be a shelter for exploitative pimps and traffickers," Gerda Hasselfeldt, chairman of the conservative Bavarian Christian Social Union group in the Bundestag, told the newspaper. "Ways to better combat forced prostitution is therefore also the subject of the coalition negotiations."
With the possible backing of the Social Democrats — who were instrumental in legalizing prostitution in 2002 — the conservatives say they can use the opportunity to form a new government as an avenue to change the law after a string of failed attempts in recent years.
A move to change the law under Germany's former CDU-Free Democrat government — which would have allowed greater control of brothels — failed last year after it ran into opposition in the Bundesrat, the upper house of the German parliament, which was dominated by the SPD and the Green Party.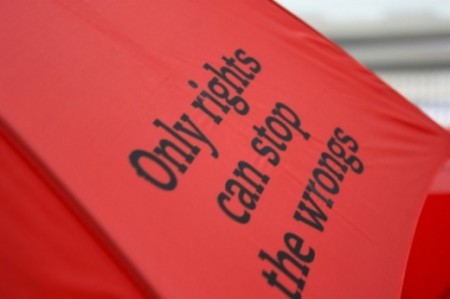 Under German law, pimps can only be punished if it is proven they are exploiting prostitutes, rather than merely promoting their business. Women's rights advocates say ruthless traffickers are getting around the restrictions by recruiting women from such poverty stricken countries as Romania and Bulgaria, and coaching them to tell police they have come to Germany voluntarily as independent contractors.
The reformers say the political tide has turned.
"I am very confident that we can change the law on prostitution in negotiations with the SPD," CSU politician Hans-Peter Uhl told Die Welt.
"The brutal exploitation of prostitutes which now takes place in Germany must be stopped," Manuela Schwesig, the SPD minister for employment and social affairs for the German state government of Mecklenburg Vorpommern, told the Bild am Sonntag newspaper.
Others in the SPD and the Green Party aren't onboard with the proposed changes.
Caren Marks of the SPD parliamentary group for women's issues, said the legal rights of prostitutes who truly choose to work in the sex trade must be maintained so such women won't be "pushed back into illegality" in a unrealistic bid to eliminate prostitution.
That, she said, would "only further increase the risk of exploitation and violence" for women.
© 2013 United Press International, Inc. All Rights Reserved. Any reproduction, republication, redistribution and/or modification of any UPI content is expressly prohibited without UPI's prior written consent.