The anonymous, acerbic tweeter who went by the handle @NatSecWonk was a White House staffer on the verge of being named to a leading Pentagon position before he was fired last week for his nasty, sneering online identity. Now, onetime National Security Council (NSC) staffer Jofi Joseph is under investigation by the Justice Department for his alleged social media activities — both as @NatSecWonk and also possibly as @DCHobbyist, a Twitter account devoted largely to the exploits of North American escorts.
Joseph possessed the kind of résumé that had put him on a Washington fast track. But he was abruptly dismissed last week after administration officials confronted him with evidence that he was the man behind @NatSecWonk. That Twitter handle, well-known to people in Washington's national security circles, relished sniping at government officials, politicians, reporters, and anyone else in his field of digital fire. But FP has also learned that Joseph is suspected of being the man behind a different Twitter handle, @DCHobbyist, which spouts spicy talk about sex and prostitutes peppered among tweets on the Washington Nationals and bike commuting. On Oct. 7, @DCHobbyist tweeted about Toronto's "tsunami of gorgeous and sensual escorts." Three days later, he tweeted at @MsBellaAngeline, the Twitter account associated with Isabella Angeline, who advertises herself online as a "luxury companion and escort."
He wrote, "I hope you know that I reminisce fondly about our date. Do let me know if you ever find your way back to DC."

Naturally, the tweets themselves are not illegal. But when administration officials realized Joseph was also behind them, they raised questions about Joseph, who is married to a respected Senate staffer on the Senate Foreign Relations Committee, Carolyn Leddy. Openly interacting with escorts can be a security risk; for a married and well-placed official, it can easily lead to blackmail and worse. The fact that @DCHobbyist appeared to be so brazenly engaged in such activities raised red flags about Joseph's state of mind. One individual briefed on the matter told FP that based on the two Twitter handles, Joseph's case was referred to the Department of Justice to determine whether any of the information leaked by @NatSecWonk or the "behavior" of @DCHobbyist amounted to criminal acts that would put in jeopardy Joseph's security clearance. Meanwhile, Senate Foreign Relations Committee officials are trying to determine if anything Joseph posted had represented classified information provided to him by Leddy.
Joseph did not respond to multiple requests for comment. But he provided a statement to Politico's Glenn Thrush late Tuesday:
"It has been a privilege to serve in this Administration and I deeply regret violating the trust and confidence placed in me," Joseph told Politico in an email. "What started out as an intended parody account of DC culture developed over time into a series of inappropriate and mean-spirited comments. I bear complete responsibility for this affair and I sincerely apologize to everyone I insulted." But Joseph did not reply to a query from Politico about whether he was also the man behind @DCHobbyist.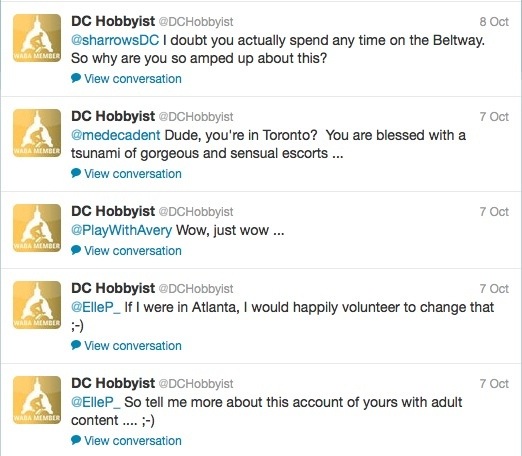 As FP reported Tuesday, Joseph kept the national security community in Washington intrigued with who he was. Clearly, @NatSecWonk was an individual with information about the workings of the government that only someone on the inside could have. Clearly, he could be awful online; some of his jabs could be construed as homophobic or racist. Others were just plain nasty. It all caught the attention of administration officials for the last two years.
"Mitt Romney now putting on his 'I am talking to a black person' voice," he tweeted on Oct. 16 of last year. In another tweet, Joseph wrote, "Guessing Mitt Romney couldn't locate Mali on a map to save his life." In a third tweet, dated Jan. 7, Joseph wrote about Sen. Lindsey Graham, "I'm willing to hear out Lindsay [sic] Graham's criticisms of Chuck Hagel if he can produce a single woman he's dated in his life."
During the confirmation hearings for Defense Secretary Chuck Hagel — the man who runs the department that Joseph was hoping to work at — he was brutal. "If only Chuck Hagel put as much time into his hearing prep as he is in leaking names of people coming to his swearing in ceremony today," he wrote in one tweet. In another: "I liked how Women's Wear Daily suggested new SecDef Hagel get something for his puffy eyes. The man looks like fucking sadsack Aeyore [sic]!"
Late last week, the Twitter handle @NatSecWonk disappeared, prompting questions by FP and others as to what happened. In the days afterward, it became clear that the anonymous tweeter was not only gone, but had been a reasonably high-level official within the administration who was now facing the potential of disciplinary action.
Joseph, who had helped conduct high-level White House discussions on Iran and belonged to the nonproliferation section of the NSC, was in the final stages of vetting for a senior-level position at the Pentagon. He was to work as a top advisor to Frank Kendall, the undersecretary of defense for acquisition, technology, and logistics, a key job at a time when the Pentagon is going through a fundamental budgetary transition. Joseph was expected to be announced for that position in the next week or two. That job, of course, is now no longer a possibility. Instead, Joseph faces scrutiny from the Department of Justice, Situation Report is told, for his tweets as @NatSecWonk and as @DCHobbyist.
The story began to unfold rapidly Tuesday evening. Sources familiar with Joseph's online actions had confirmed to FP that he was in fact @NatSecWonk. But FP was also told that Joseph was also masquerading under a second Twitter handle, @DCHobbyist. Administration officials discovered Joseph's online activities last week. When he was confronted with the @NatSecWonk handle, Joseph confessed to the tweets, and he was abruptly terminated.
Former administration officials were flummoxed by the news. Joseph was described by various individuals who had had contact with him as smart but unremarkable. One former administration official who knew Joseph indicated that he was surprised by the revelations. Describing what he made of them, the official said simply, "Still waters run deep."