LOS ANGELES, May 4, 2022 — Bryan Gozzling, an OG of kinky online seduction, somehow persuades young, wayward women to visit him for the nasty sex they'll never find via vanilla dating. In "Hookup Hotshot: Sexual Networking," director/performer Bryan subjects four cute, curious adventurers to the crude manhandling that makes them wet. The movie is now available on DVD and VOD, and all four male-dominant scenes are live on EvilAngel.com.
"The Internet continues to be the best place to meet and fuck new girls," notes Bryan. "I've met all the girls from 'Hookup Hotshot' with this kind of 'Sexual Networking.'"
A trailer at EvilAngelVideo.com shows submissive, natural-bodied babes Bella Luna, Madison Summers, Aria Valencia and Scarlet Skies living their dirtiest dreams.
"This was my second time working with Bryan, and I was so excited!" says the busty, beautiful Ms. Luna. She prances to his doorstep in threads that would thrill the neighbors — her tits spill from a low-cut top and her plump butt pops out of skimpy jean shorts. Amid wet cocksucking and hard, oil-lubed fucking, Bella worships Bryan with a raunchy rim job. "I loved every part of the scene, beginning to end, from playing dress-up and choosing the outfit for the day. Then, of course, the massive facial at the end," Bella recalls. She adds that she enjoys Bryan's productions because, "I can get really messy and sweaty, and I feel like I'm living out my submissive, dirty hookup fantasy."
In "Sexual Networking," young redhead Scarlet is a fair-skinned, little waif in a tight dress and fishnets. Bryan strips the deviant, obedient girl, who gives a slobbering blowjob and eats his ass. Intense, aggressive intercourse leaves her shouting, "Thank you, Sir!" Semen slathers her face. "This scene was one of my absolute favorites to film," declares Scarlet. "I had an incredible experience — fucking my face with a dildo while getting fucked, completely submitting to someone. I left the scene begging for more! Bryan is an absolute pleasure to work with."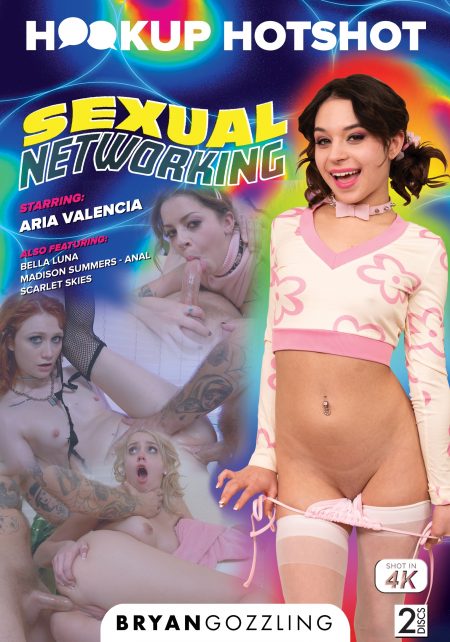 Collared, compliant blonde Madison flirts with Bryan, who spanks her ass and fingers her to multiple, squirting orgasms. Eye-reddening fellatio coats her little tits with dripping spit, and freaky anal reaming comes with rectal gaping and ass-to-mouth flavor. Heavy sperm drips from her face.
Bryan tosses petite, 18-year-old cover girl Aria onto his couch to eat her hairless teen twat. She calls herself a "brand new, fresh, little cocksucker," and she kneels for BJ service. Bryan chokes her as he screws her on the sofa, and he drills her tight body practically into the floor. Adorable Aria smiles through sloppy spunk.
"Hookup Hotshot: Sexual Networking" is way too hot for network TV, but Bryan Gozzling's nasty, new male-dominant content is now available on DVD, VOD and at EvilAngel.com.
Download the press release materials for "Hookup Hotshot: Sexual Networking" here.