Have you ever noticed when people don't have any cards left to play, they resort to bringing family members into it? Foster did it with my kids, baby mamas and mom. Of course I returned the favor – the same way I returned it when the powers that be at PWL decided to use family in their attacks.
Some of you already know the story of the pussy whipped DJ…but here's a little refresher: Shelley Lubben conned this dypshyt in cutting a vid, basically anointing Shelley Lubben the right hand of god and accusing Michael Whiteacre of being behind PWL. Of course, anyone with a 386 and a internet connection could disprove both of those theories in about 30 seconds. Normally I ignore most of the anti's attacks on me. At any given time, I'm the subject of blogs on like seven different sites – but this guy's complete fabrications wore on me.
When I saw Greg Pawlak aka Mace Ravenwolf's video, I assumed he had been lead astray with thoughts of banging Shelley Lubben. I know what you're thinking, but when you look like Greg, Shelley is jackoff material. I decided to fire a off a mostly grammatically correct email with a link to the xbiz story on PWL:
Apr 27 (5 days ago)
to gregpawlak
It has come to my attention that you have a youtube video embeded on your website http://www.thebestofhairradio.com/ titled "in defense of my friends." While i certainly have no issue with you guys defending who you consider friends i do have issue with dishonesty…This video makes reference to pornwikileaks aka PWL and refers to Michael Whiteacre as the person behind it..Nothing could be further from the truth..I know this becasue im the guy that was brought in to bring it down..

http://business.avn.com/articles/technology/Kayden-Kross-on-the-Rise-and-Fall-of-PornWikileaks-442406.html

AVN is one of the more respected online mags in the biz..If you read that article it tells you who was behind PWL, it also tells you who helped bring it down..Michael Whiteacre is one of the people mentioned.

If you watch the vid displayed on your site after reading the link above you can see how completely off base the video is when it comes to PWL…

I'm asking you to remove the vid, or edit the vid to remove the false accusations…Its one thing to stand up for what you feel may be the right thing, but to flat out lie and tie someone to one of the biggest hate sites in the last 5 years is unacceptable….

Thanks for your time
Notice how nice I was? Also, notice I didn't say anything about Shelley? I only addressed the accusations about Michael. I sent him a link to a story – a story on a very well respected adult website, written by one of the most popular pornstars in the world.
If you read that article, the following can be said without doubt. First, Michael Whiteacre had nothing to do with PWL other then being instrumental in bringing it down. Even Whiteacre's nemesis Mike South can verify this. Second, Michael Whiteacre and Shawn Thompson are two different people. So, after getting this email, What does pussy whipped DJ dickhead do? He issues this statement on his YouTube page:
So this guy wants to bring up ex wives and parents? Ok bitch, we can play that game.
That's me and Whiteacre with like 6 others. But if you need further confirmation, ask my newest friend on facebook.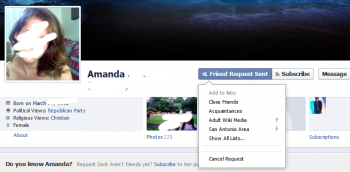 We can keep this up. We did our due diligence days ago…every single person in your circle. How about a Pawlak family reunion?