One of my pals asked me "Don't you feel like you're kicking a beaten man?" My answer was and still is NO. When this started, Michael Whiteacre was painted as a liar by Hugo Schwyzer. If that wasn't bad enough, people then accused Whiteacre and I of manufacturing these texts and DMs in Photoshop. You can call it revenge if you want, but I call it vindication…
As readers may recall, now-disgraced 'male feminist' writer and notorious attention seeker Hugo Schwyzer engineered a media blitz in February after inviting popular porn performer and Lindsay Lohan co-star James Deen to address at Schwyzer's "Navigating Pornography" class at Pasadena Community College.
Click image for gallery: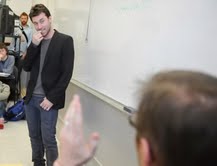 Christina Page, the webcam performer , amateur porn talent, and sex worker rights advocate at the center of Schwyzer's recent career-killing sexting scandal, has often admitted her huge crush on the star of "The Canyons", as evidenced by this tweet from the day Professor Schwyzer called her during a masturbation session she had announced on Twitter.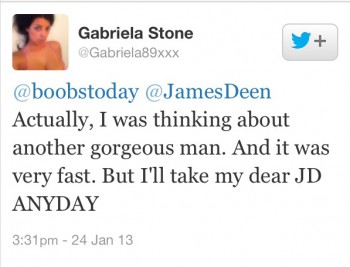 Well, according to Page, it turns out that she wasn't the only one with the hots for Deen.
In private messages with her ex-boyfriend, Page claims that she and Schwyzer shared fantasies about having a threesome with Deen. Page also related that Schwyzer – a bisexual who reportedly told Page he was in a monogamous yet sexless relationship with his wife – claimed he "missed sucking cock."

The revelations came after Schwyzer, then an avid social media user, posted this Facebook status update:
Page began by inquiring whether her ex had ever seen her direct message conversations with Schwyzer concerning Deen…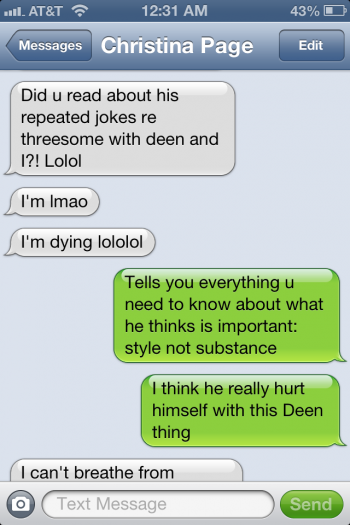 This revelation may cast Schwyzer's articles and social media posts about Mr. Deen in a different light…

Page vacationed in Los Angeles from late January to mid-February, and had also planned to speak in Schwyzer's class…
…and then some, as these Facebook DMs would seem to indicate: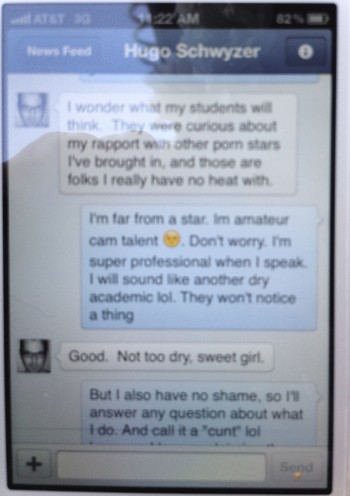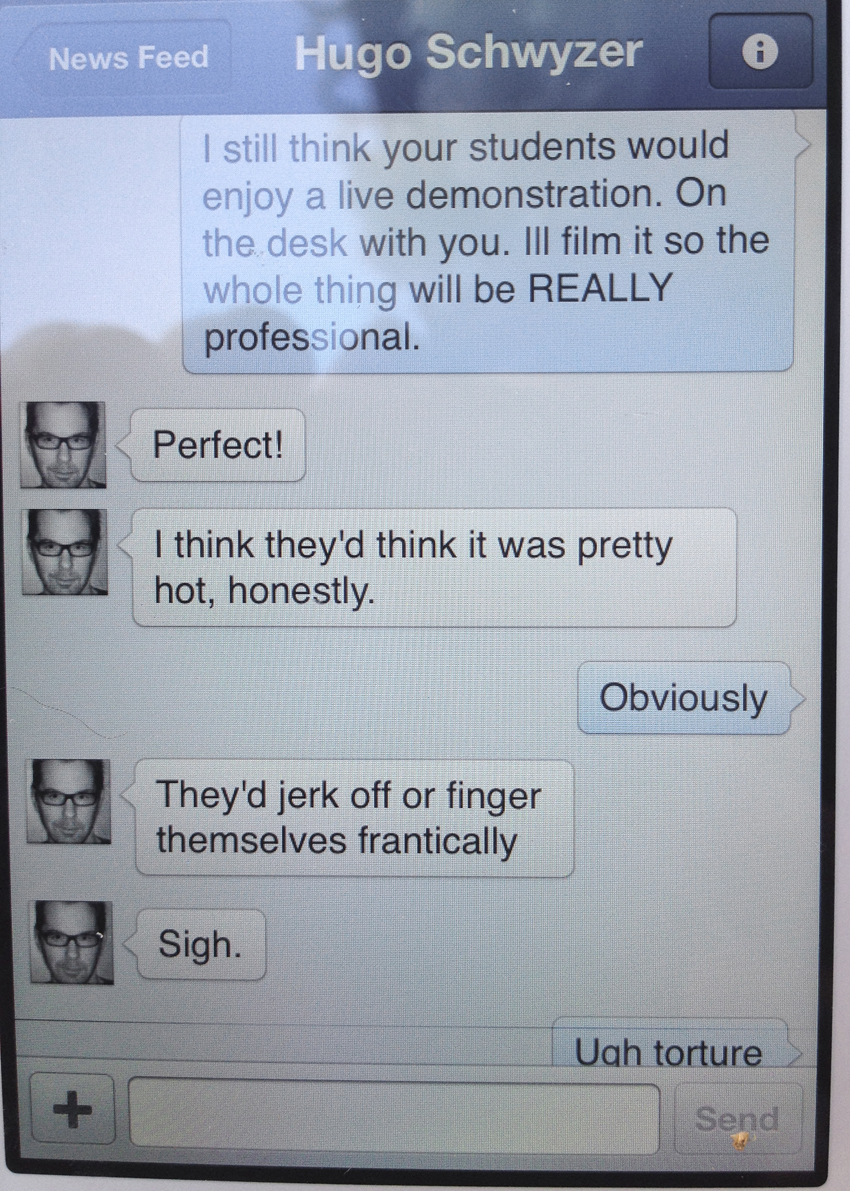 In retrospect, perhaps the moral of this tale of desire, manipulation and woe was written by Page back in January during her fling with Schwyzer…
Related Hugo Stories
HugoLeaks: Male Feminist Hugo Schwyzer's Sexting Scandal Exposed (NSFW) –
Hugo Schwyzer Comes Clean on Suicide, Cheating, and Being "a First-Rate Fraud" – The TRPWL Interview