An Illinois lawmaker who recently resigned his seat is under investigation for possession of child pornography.
Authorities from the U.S. Immigration and Customs Enforcement's Homeland Security Investigations seized electronics from Keith Farnham's state office last week and are seeking child pornography materials, according to the Chicago Tribune.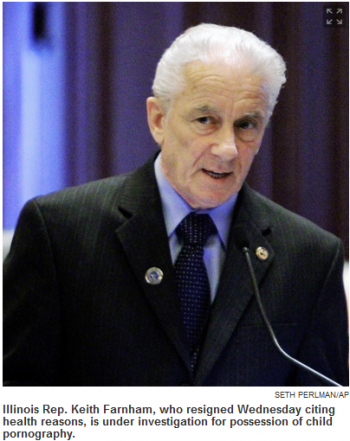 Farnham, 66, declined to discuss the investigation when reached by the newspaper Friday.
Farnham, who took office in 2009, is listed as the co-sponsor on two state bills that sought to increase the penalties on individuals who possess child pornography in certain circumstances.
One bill states that child pornography or aggravated child pornography that does not involve mere possession shall be deemed crimes of violence. The other increases the penalties for individuals that film child porn.
The warrant states they are searching for "documents in any format or medium pertaining to the possession, receipt, or distribution of child pornography," the newspaper reported.
Farnham resigned Wednesday stating he was "battling serious health issues for a number of years" even though he had just won the Democratic primary for reelection the day before.