Porn star James Deen has two passions: women and food. And when he loves something, be it a chick or a chicken sandwich, he's going to shoot a video about it — and he'll probably take his shirt off. Deen's Twitter account, which he uses to wheedle fans into bringing him a burrito, is a celebration of his carnal and literal hungers, and proof that to him, food is everything from romance ("Fuck flowers… Show her you love her by surprising her with a pizza when you know she will be hungry") to genealogy ("For all those asking … Paula deen is not my mom. I'm HER mom … DUH!!!!!!") to revolution ("GIVE ME CHEESE OR GIVE ME DEATH!!!!!!!").
The Canyons, Deen's mainstream film debut, in which he plays Lindsay Lohan's emotionally controlling, orgy-loving boyfriend, opens in L.A. this Friday. Wrote the Village Voice's Stephanie Zacharek, Deen "carries himself with a braggadocio that's something to behold."
But if you can't wait to behold him on the big screen, for eight months Deen's been hosting his own food show, James Deen Loves Food, on the not-totally-SFW erotic site WoodRocket.com, home of the series Topless Girls Reading Game of Thrones. There's even a sensual opening song that lists some of his favorite things to eat: Greek food, Italian food, horseradish, celery, croutons.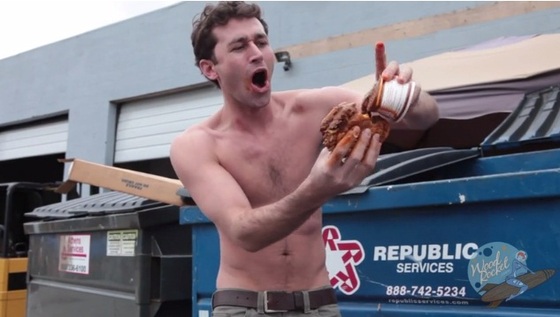 Keep Reading LA Weekly