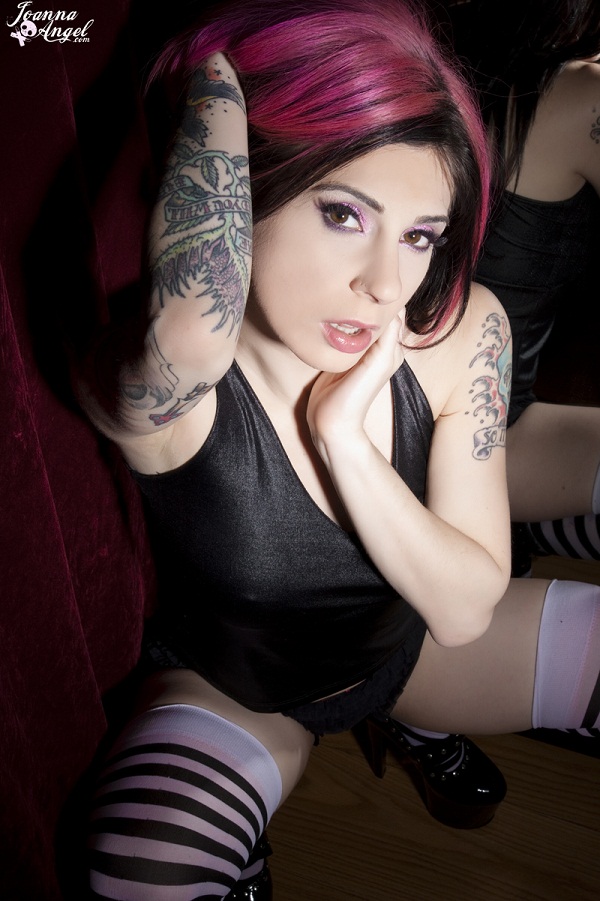 Punk rock tattoo princess and founder of the BurningAngel.com empire, Joanna Angel is pleased to accept the YNOT Award for "Best Solo Girl Website," as announced via www.ynotawards.com and their recent awards show held in Prague.
The YNOT Awards were created as a way for the adult Internet industry to truly have a democratic and transparent system for recognizing the most innovative and hard working companies and individuals in its ranks.
"I'm very thankful to have won Best Solo Girl Website," says Joanna. "This is the second award I have won this year for JoannaAngel.com. I along with the entire BurningAngel staff are beyond thrilled."
Continuing, Joanna says, "I am honored to have been chosen by the web experts at YNOT for this award and I would like to especially thank Jay Kopita from YNOT for always being so supportive of me and my company."
About Joanna Angel and BurningAngel.com
Pushing the envelope and breaking new ground, the BurningAngel empire is a refreshingly unique web cocktail of sex, rock n' roll and pop culture. Its unmatchable edge has claimed a burgeoning bi-coastal community both in and out of cyberspace. BurningAngel.com officially launched in April 2002 with a few sets of photos and a band interview. The amateur experiment, conceived by two college kids from Rutgers (Joanna Angel and Mitch Fontaine), has since exploded into a fierce indie company that has pioneered a new species of erotica and has given way to the emergence of Joanna Angel as the "queen of alt-porn." In January 2005, the website's growing popularity spawned its sister DVD production company, BurningAngel Entertainment, which continues to deliver hip, ironic cult classics, including the award-winning Joanna's Angels and Cum on My Tattoo series.
BurningAngel.com now hosts an extensive hardcore video collection and photo gallery featuring over 200 girls, hailing the site's co-founder and star, Joanna Angel, as its queen bee. The site also features provocative interviews with a variety of bands on both major and independent labels, including Bad Religion, the Transplants, Bloc Party, Marilyn Manson, the Bouncing Souls and Brendon Small of Cartoon Network's Metalocalypse. The website also boasts an interactive web community, featuring active message boards, profile pages for all members and models, and comment boards throughout the site in which members can express their opinions.
Since its inception, BurningAngel and its star, AVN Award Winner Joanna Angel have been featured on Fox News, Playboy TV, Fuse TV, KROQ Radio, SIRIUS Radio, and on the series premier of TLC's LA Ink; they have appeared in The New York Times, Newsweek, The Village Voice, The New York Press, Esquire UK, and Penthouse, among others. Heeb Magazine featured Joanna as their cover girl, naming her one of the "Top 100 Up-and-Coming Jews," and in 2006 The New York Post featured her as one of the "Top 25 Sexiest New Yorkers."
2011 AVN Award Winner: Best Porn Star Web Site; Best Web Premiere: "Dong of the Dead" (BurningAngel.com); Best Solo Sex Scene: Joanna Angel in "Rebel Girl" (BurningAngel/Vouyer)