TRENTON, N.J., Oct. 10 (UPI) — A New Jersey judge Thursday rejected a state appeal to halt same-sex marriages in the Garden State.The decision by Judge Mary C. Jacobson clears the way for same-sex couples to exchange vows starting Oct. 21. Thursday's ruling came two weeks after Jacobson found the state's civil union law to be unequal and unconstitutional and ruled New Jersey had to allow gay marriage, WCAU-TV, Philadelphia, reported. Granting the state's request for a stay would make gay couples "suffer many hardships of constitutional magnitude," Jacobson said.
A Quinnipac University poll of likely voters released Thursday found New Jersey residents in favor of gay marriage 61 percent to 32 percent, although Republican Gov. Chris Christie opposes gay marriage and had the state appeal Jacobson's September ruling.
Fifty-nine percent of respondents want New Jersey's Democratic-controlled Legislature to override Christie's veto of a 2012 same-sex marriage bill, while 33 percent support Christie.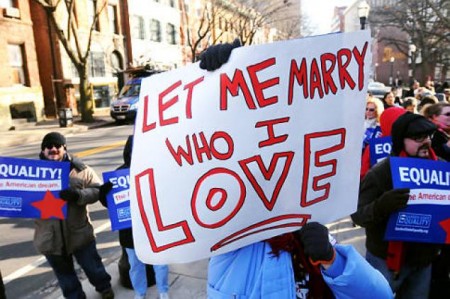 "New Jersey voters likely support same-sex marriage any way they can get it," said Maurice Carroll, director of the Quinnipac University Polling Institute in a release. "By almost 2-1, including a lot of Republicans, they want Gov. Christie to drop his appeal of a judge's ruling so same-sex couples can marry in the Garden State."
The poll questioned 1,144 likely New Jersey voters from Oct. 5-7 and had a margin of error of 2.9 percentage points.