Well, the avuncular Dr. Phil has found himself enmeshed in the quite the controversy, following his Twitter question about whether or not having sex while drunk is okay.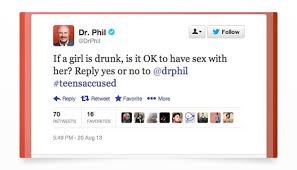 The Professional Victim Brigade ™ and Purveyors of Rape Culture and Other Guaranteed Snake Oil Cures ™ were all over him, demonstrating their outstanding grasp of logic, rhetoric and just straight up mastery of the English language by interpreting Dr. Phil's question as IS IT OKAY TO RAPE WOMEN?  Which is obviously the same thing as asking whether having sex while drunk is okay.
Oh, I suppose this is when I should mention that it's only rape if the WOMAN is drunk.  Men can't get drunk, so obviously, they can't be raped.  Wait, no.  That's wrong.  Men can't get erect when they're drunk and if they CAN, then obviously, they totally wanted it!  No rape!  Actually that might be wrong, too.  Men can't escape their legal responsibilities no matter how drunk they are, so they can't be raped.  Crap.  I'm not sure how it's supposed to work, but just go with me on this one.
It's only rape if SHE is drunk.
Let's try an analogy to sort this out.
Yoo hoo!  Lost Sailor!  Where are you?  Come and play for a second.
So me and Lost Sailor decide to hit up a vineyard for some wine-tasting.  It's out of the way, we're driving and we both plan on sampling a whole lot of grape!
Keep reading at Judgy Bitch