Adult superstar Kelly Madison and her iconic 34FF breasts are back in the all-new "Kelly Madison's World Famous Tits: Volume 14." The DVD ships from Kelly Madison Media and distributor Juicy Entertainment.
The award-winning blonde bombshell and her beautiful all-natural breasts return to hardcore action as she joins her husband, award-winning performer/director Ryan Madison, in all-new, sexually-charged erotic vignettes! Kelly Madison channels her inner bad girl when she dons her sexy lingerie, bang-me boots, or tiny bikini to let Ryan know hot times are coming!
The movie includes two and a half hours of hardcore action, featuring the adult superstar at her hottest and sexiest yet. To view the box cover, trailer, and scene list for "Kelly Madison's World Famous Tits: Volume 14," click here.
"Kelly's fans have made this series into one of our most popular for several years running," Ryan Madison said. "In an industry where new product is constantly being released, the popularity of 'Kelly Madison's World Famous Tits' is a testament to the fans and to Kelly's ability to create great content and connect with consumers on a deep level!"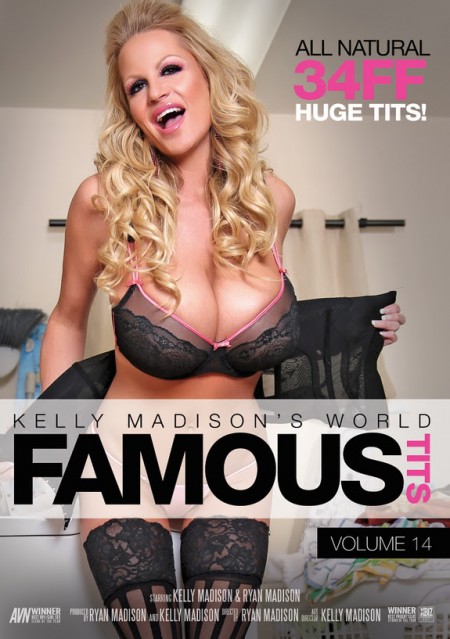 "Kelly Madison's World Famous Tits: Vol. 14" features Kelly with her up-for-anything attitude and humor, teasing and flirting with Ryan until her sexy curves and amazing breasts prove too much to resist! In scenarios that show the adult superstar doing her laundry in her bra and panties, to her sexy little dress at a swanky hotel, or in a dive motel where she is treated like a slut, Kelly Madison dials up the passion in this newest hardcore release.
"One of great things about this series is getting to live out some of my wildest fantasies!" Kelly Madison said. "But while Ryan and I had a great time doing this movie, after everything is said and done, the real star is neither one of us! It's the 34FFs – and the fans love it!"
"Kelly Madison's World Famous Tits: Volume 14" includes behind-the-scenes video, behind-the-scenes photo gallery, Polaroids, and more.
Retail customers are invited to inquire about "Kelly Madison's World Famous Tits: Volume 14" at their online or brick-and-mortar retailer of choice. Wholesale customers can contact Danny Gorman at Juicy Entertainment at danny@xxxjuicy.com.