Its official, Serenity Haze is that kid on the playground with head lice. The kid no one else wants to play with. We cant shave her head, no special shampoo will ever get her back on the monkey bars..She's like Rudolph without the red nose, no reindeer games and no baby new year..If i could predict how it ends for her, im gonna go with Sharon Stone in casino..
Earlier today, in what has become the norm for the once convicted child rapist, Serenity took to twitter to explain once again her side of the same story. Nothings really changed, there's the standard "I hope you get raped" tweets, mixed in with some "Sean at TRPWL is a faggot"..  I know what you're thinking, that's a really mean thing to say to me. While im not over those hurtful words, when people are mean to me, I just google Bobbi Stars bush, the awesomeness that is her vag hair makes me forget all the evil things people say in this world.
One of the people Serenity was beefing on twitter with was Brie Taylor.
During the argument, Brie accused her of having a felony, having sex with a minor and living in a trailer..This was Serenity's response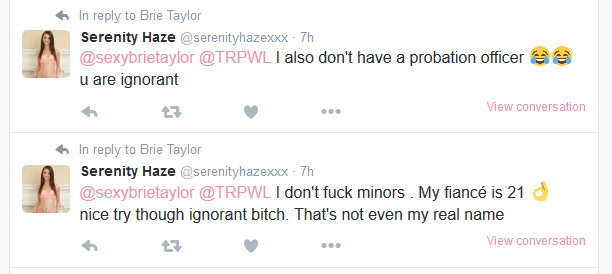 Brie, was using info i provided in earlier posts.. But according to Serenity, I got it all wrong..Below is the booking pic from a county website, and a pic of Serenity from twitter ..You be the judge
From her twitter:
Check out her twitter bio
5'1, 95 pounds, now check out the booking slip from when she was arrested for having sex with a minor, a felony I might add.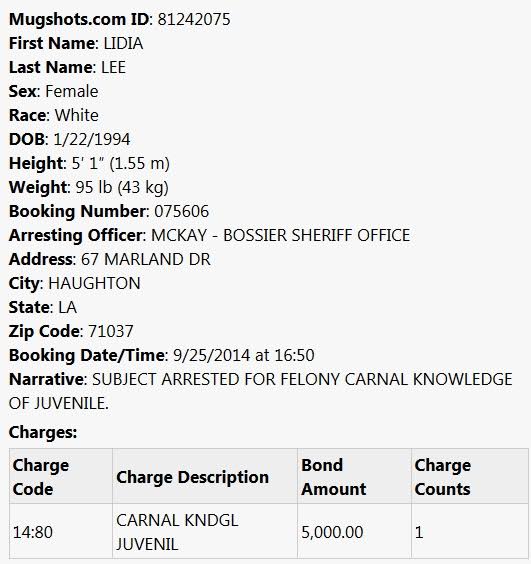 Hmmm…..
UPDATE
Even after all these posts Serenity keeps telling everyone shes never been arrested, that's not her real name, and of course that's not her mugshot:
From her facebook
Gee Serenity, how do you explain these posts from YOUR facebook?  Maybe there is another person who looks exactly like you, has the same name, lives in the same town as you, does porn, and has the same physical features as you..
So your dream was to stay at the HardRock?  Nice!!!
And its not Major "Rewards", Its Major "Award"..
WTF??????????????????????