LOS ANGELES (June 24, 2015) – A string of exclusive content on top media outlets led to increased anticipation for "Magic Mike XXXL: A Hardcore Parody," the upcoming film from Wicked Pictures. Highly trafficked websites like Cosmopolitan.com, Uproxx.com, TheFrisky.com, and FilmDrunk.com all featured teasers, trailers, photos, and posters from the parody, which will begin shipping on July 1, the same date as Hollywood's film releases theatrically.
Directed by Brad Armstrong, "Magic Mike XXXL: A Hardcore Parody" features Derrick Pierce as Mike, Ryan McLane as Dallas, Tommy Gunn as Big Dick Richie, Ryan Driller as Ken, Dick Chibbles as Tarzan, Seth Gamble as The Kid, and Tony Martinez as Tito. The movie also includes Wicked Pictures contract stars jessica drake and Asa Akira, as well as Rob Piper, Misty Stone, India Summer, Jessa Rhodes, Kendra Lust, Adriana Chechik, Katrina Jade, Amirah Adara, Maddy O'Reilly, and Bridgette B.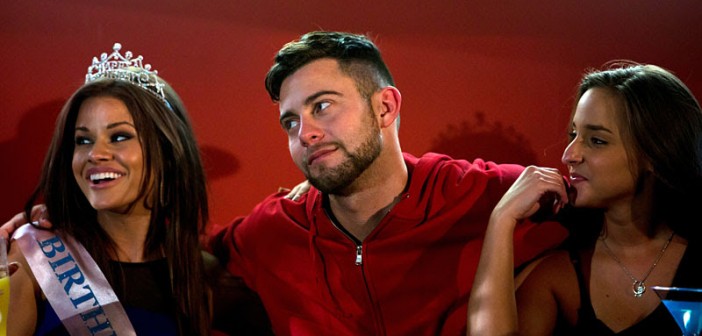 In early June, women's lifestyle site TheFrisky.com ran a side-by-side comparison of the porn parody's actors with Hollywood's actors. Editor Amelia McDonnell-Parry wrote, "'Magic Mike XXL' gets you all worked up, [and] 'Magic Mike XXXL' will finish you off, if you know what I mean…"
Uproxx.com scored an exclusive on the first SFW (safe-for-work) teaser for the movie, which contributor Mark Shrayber called "Amazing!" Shrayber wrote, "The movie is a high-budget feature that's being marketed toward a female audience. And yes, there are dance numbers. Lots and lots of dance numbers. More dance numbers than you've ever really imagined a triple-x feature to have, really, which is kind of an awesome feat."
Cosmopolitan.com Weekend Editor Laura Beck spent a day on the set of "Magic Mike XXXL: A Hardcore Parody," and wrote she "freaking loved it!" Beck added, "In this moment, it's the most interesting thing that I have ever seen."
Cosmo was also the home of the full-length SFW trailer's exclusive premiere. Senior Sex & Relationships Editor Emma Barker wrote, "Great news! Just in time to tide over your thirst for 'Magic Mike XXL,' Wicked Pictures has released the SFW trailer for 'Magic Mike XXXL'…The porn stars are actually Tatum-level good dancers, which makes the line between porn parody and Hollywood movie feel very, very thin."
The trailer was also posted on Cosmo sites in the United Kingdom and Australia, where Cosmopolitan UK Senior Digital Writer Claire Hodgson wrote, "It looks less like a parody and more like an actual big-budget Hollywood movie with some sex thrown in." Her Australian counterpart Samantha Stewart added, "We're surprised that it's taken this long for the porn industry to make their own 'Magic Mike,' but hey, good things come to those who wait…The actors are actually pretty gorgeous and can actually dance."
The first look at a promo poster for "Magic Mike XXXL: A Hardcore Parody" came via FilmDrunk.com, part of the Uproxx entertainment network. Contributor Dr. Chauntelle Tibbals wrote, "My prediction: Porno Mike is going to be amazing!"
The parody has also been featured on numerous radio stations, like 92.5 Kiss FM, 95.1 ZZO FM, and z100, as well as international sites Metro.co.uk, BBCNewsDay.com, Terra.es, and more.
"Magic Mike XXXL: A Hardcore Parody" is a combination of both Hollywood movies, as director Brad Armstrong was able to parody parts of the sequel's plot through trailers and media articles. Armstrong, a former stripper, also drew upon his own experiences to make "Magic Mike XXXL" as realistic as possible. Having almost parodied the original in 2012, it was ultimately the sequel's title that inspired Armstrong to follow through and begin production.