A horrifying crime scene in South Miami hit Facebook Thursday when a man posted a photo of his dead wife — and a confession that he had killed her.
Derek Medina posted the photo some time around noon Thursday, with the words "Rip Jennifer Alfonso." The image shows his wife's body slumped backwards from her knees on the floor in what appears to be the couple's kitchen. Her face and arms are covered in blood.
"You will see me in the news," reads a confessional status update posted minutes before the photo:
Im going to prison or death sentence for killing my wife love you guys miss you guys takecare Facebook people you will see me in the news" my wife was punching me and I am not going to stand anymore with the abuse so I did what I did I hope u understand me "
Medina drove himself to the South Miami Police Department and turned himself in.
The Miami-Dade Police Department, who are now investigating the case, said detectives found Alfonso dead from apparent gunshot wounds when they responded to the home.
They also found Alfonso's 10-year-old daughter unharmed inside.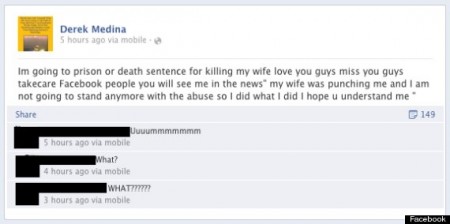 Miami New Times reports Medina has authored a number of self-help e-books, including one titled "How I Saved Someone's Life and Marriage and Family Problems Thru Communication."
Incredibly, his grisly posts remained published on Facebook until just before 5 p.m. Thursday, when they appeared to have been removed.