This Wednesday through Saturday at the 2015 AVN Award Show & Expo, BDSM icon and film legend Master Liam Lockran will be performing live erotic scenes and demonstrations of custom 6-foot whips.
As a featured guest, Master Liam can be seen at The Lair which is located on the 2nd floor of the Joint in the Hard Rock Hotel & Casino in Las Vegas, Nevada. The Lair's corner of the AVN show offers demonstrations and training in kink and erotic play with an emphasis on education and interactive experiences, The Lair will bring to life the many aspects of the fetish and BDSM communities, with help from Master Liam.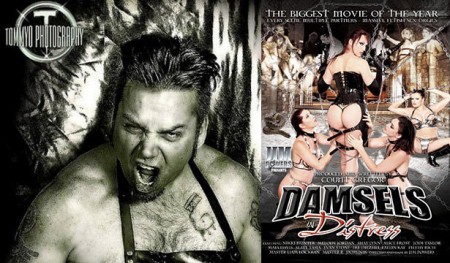 Master Liam's movie Damsels in Distress, directed by Jim Powers, distributed by Juicy Entertainment and produced by Greg Munsell, is nominated as Best BDSM Movie. Master Liam can also be seen in this year's movie nominee Shades of Kink 2 by Sweet Sinner/Mile High.
Connect with Master Liam on social media here, here, here, here and here.
Visit The Lair's AVN webpage here.