Matthew Mahon had his first sexual experience with a prostitute at the age of 14, an encounter that was paid for by a friend's uncle. At the time, he couldn't have imagined that his career would someday take him to seedy motel rooms, where he would spend hours working with ladies of the night much like the one who defined that first experience. But that's exactly what happened, and the fruits of this trajectory can be observed at The Public Trust gallery in Deep Ellum, where Mahon's photo series Under is on display through May 31.
An editorial photographer, Mahon has worked with magazines ranging from ESPN to People to Fortune, and although he's based out of Austin, he shoots as many as 90 assignments a year, a workload comparable to that of successful New York photographers. When the opportunity to do a personal project struck for the first time since 1999, Mahon chose the women of the sex industry as his muses. "I felt a kinship, a connection to these women," he says. "I met one girl who told me that at 14, her mom had pimped her out to get money for meth and she and her siblings went hungry. That shouldn't have been happening to her at 14, and I shouldn't have been having sex with a prostitute at 14."
Mahon sought out prostitutes on the Escort Client Community Information Exchange, otherwise known as yelp for escorts. ECCIE enabled Mahon to find independent sex workers to photograph. "I always tried to vet them to make sure there wasn't a pimp involved that would have added a dimension I didn't want to deal with," he says.
Mahon began renting rooms in Austin, and invited women to meet him there. He had his laptop on hand to show potential subjects the project that they would be participating in. While he occasionally found it difficult to attract participants online, none of the prostitutes he met in person turned him down.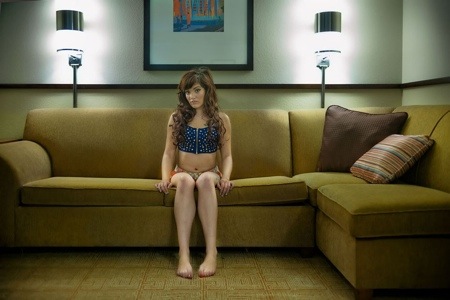 "I don't know if it's cause I grew up with three older sisters, but a lot of women are really comfortable with me once they meet me," he says. Mahon sometimes photographed four to five women a night, with shoots often running until dawn. He payed them the going rate for an hour of their time — which typically ranged from $150-$300 — and encouraged them to express themselves in whatever way they liked.
Under has been compared to Philip-Lorca diCorcia's Hustlers, which depicts male prostitutes in Los Angeles in the early '90s. The two series differ principally in that DiCorcia's photos were carefully staged, while Mahon's were not. However, Mahon also notes that the rapport he developed with the women he shot lent his work a unique edge. "I had a much more intimate relationship with the subject, and a lot of people say that comes through in the photographs," he says. These relationships were at times so intimate that the women refused Mahon's money, and many of them ultimately used his photos to promote themselves in the sex industry.
"I gave all of the girls that participated their own photos," Mahon says. "You can see that I'm working for them more than myself some of the time." To this day, he maintains relationships with several of his subjects. "There are three out of the 65 that I still talk to on a pretty consistent basis," he says.
Despite his own feelings of kinship with sex workers, Mahon's hope is that his role as the photographer is invisible in Under. "I want the viewer to be in the room with those women," he says. "At the end of the day it's about the viewer's relationship with the photograph and the viewer's interpretation, experience and opinions of the sex industry."
Source