Carrera's New Scene for Brazzers Released
Sizzling adult starlet Mercedes Carrera is thrilled to announce that she will be posing for photos and signing autographs for fans during the 2015 AVN Adult Entertainment Expo (AEE), at the Hard Rock Hotel & Casino in Las Vegas.
The hot new MILF performer will appear at Table 9 during the following times: Friday January 23rd, from Noon until 4:00 pm; and Saturday January 24th from 11am until 2:00 pm.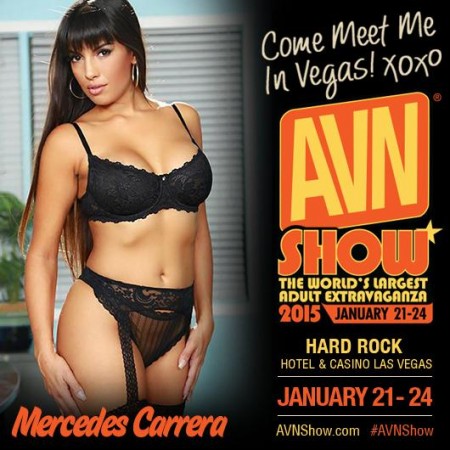 The Adult Entertainment Expo is the adult entertainment industry's biggest show, featuring over 500 porn stars from around the world, more than 15,000 industry professionals, 250 innovative brands, plus dozens of workshops, seminars and industry networking events.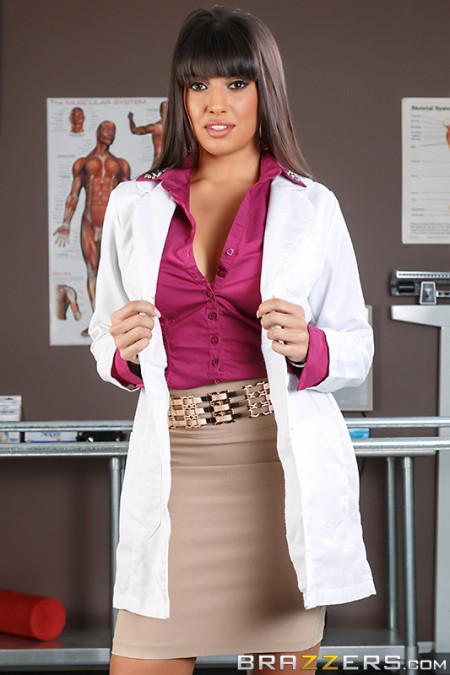 Mercedes also has a brand new scene out from Brazzers: Dr. Carrera's Orders, in which the dedicated doc proves that she is willing to do whatever it takes to rehabilitate her patients:
When she couldn't motivate her patient Ramon Novar to walk on his own, she took out her big beautiful tits as an incentive. You can bet Ramon found the will to walk over close enough to touch her boobs and get his big dick sucked on right then and there. With his legs working, and his penis on over-drive, Ramon made use of his new-found strength to screw Mercedes like she hadn't been screwed in years! Even when his girlfriend walked in on them boning, Ramon and Mercedes kept going, and had themselves a wild afternoon in the doctor's office!
Mercedes is quoted as saying, "I had such a great time working with Ramon for the first time! It was a high-energy scene and I can't wait to hear feedback from the fans!"
On January 2, Carrera's brainchild, The Porn Charity (theporncharity.org), hosted its first live stream event on webcams.com, with proceeds going to fund the Second Circle Scholarship, a collaboration between the new group and The Fine Young Capitalists (thefineyoungcapitalists.com). The scholarship will be merit based ,and benefit students in the STEM fields (science, technology, engineering and mathematics).
"We are extremely proud of the tremendous turnout for the live stream and the accompanying IndieGoGo campaign. The raised amount of $11,280 far exceeded our expectations for this initial effort.
"We cannot thank webcams.com enough for their participation and matching of funds, and we also want to thank The Fine Young Capitalists for their collaboration on this effort. A huge thank you to the artists that supplied their work to the event, and to everyone who contributed."

About Mercedes Carrera:A card-carrying member of the Illuminaughty, Mercedes joins the adult industry with a background in mainstream modeling and acting as well as education and work experience in engineering. She was scouted to one of the most prestigious fashion modeling agencies at the age of 13, earned her SAG/AFTRA membership as a teenager, and worked consistently for large commercial print magazines, catalogs and commercials.  After returning to university and majoring in manufacturing engineering with an emphasis on systems quality assurance, she worked in aerospace systems specializing in thermal testing for space based optics. She also worked as a telecommunications engineer and trainer, and in mainstream technical photography and film production. She's excited to join the adult industry and brings 17 years of performance talents to pornography. She still is actively involved in technology in her spare time, and enjoys video games, chess and playing the piano, in addition to being an all-around irritant to anti-sex radicals. Mercedes is also an active philanthropist and donates her time and money to various causes on an ongoing basis.
Mercedes can be booked through ATMLA. (http://atmla.com/atmla2/tour/performers/38027-pornstar-mercedes-carrera/details.php) Fans can buy Mercedes a gift from her Amazon Wish List (amzn.to/1ti7ytt)
Mercedes Carrera is represented exclusively by Porn Star Ink for public relations. To find out more about Porn Star Ink, visit the website at www.pornstarink.com. To inquire about representation, or for media inquiries, contact matthew@pornstarink.com.